Websites play a critical role in a business's marketing and ability to build a successful brand. In this day and age, businesses in nearly every industry require a website, including cannabis dispensaries.
When a web user makes an online search for CBD, cannabis or a similar term, they are usually looking for the most relevant information to treat their ailment. Finding a local dispensary in their area can help ensure that they get the products they seek while also supporting a small business. Dispensary websites should be factual, engaging and professional. They should also be responsive.
What Is A Responsive Website?
Responsive web design, also referred to as RWD, refers to a modern web design approach that allows website pages to seamlessly display on all devices, including computers, laptops, tablets and smartphones. Responsive websites automatically adapt to all screen sizes to provide the best customer experience possible.
Cascading Style Sheets (CSS) are generally used to create a responsive website. There are numerous settings available that serve various style properties based on screen size, resolution, orientation, color capability and similar device characteristics.
There is a simple way to determine if a website is truly responsive. Try loading a website page on a regular desktop computer and look at the layout, text and other features. Now look at the same website page on a tablet or smartphone. The page should automatically adjust to fit the size of the smaller screen. This is a responsive web design and is a critical component of any modern website.
Learn More About Responsive Web Design
Responsive web designs should not be confused with adaptive web design. The main difference between these two is that responsive designs adapt the rendering of a single page version. However, adaptive web design provides web users with multiple completely unique versions of the same page. Both options can be useful for webmasters that want to maintain control of how the website looks on different devices.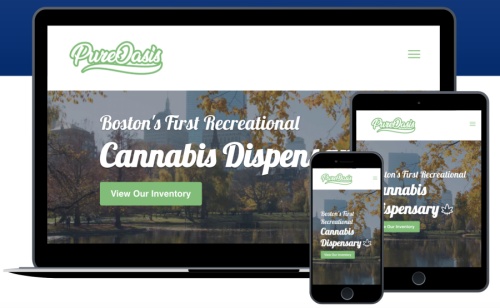 Figure 2.1 displays the responsive website design built for one of 321 Web Marketing clients, Pure Oasis. The image shows the home page when viewed on a desktop as well as tablet and mobile device.
Cannabis dispensaries that are creating a new website or updating an existing one should consider making their site responsive if it is not already. When developing a responsive website, there are several important elements that should be implemented.
Compatibility
Web developers work hard to ensure that their designs are fully accessible on any platform that has a major user base. Today, users rely on their computers, laptops, tablets and smartphones to provide them with quick and relevant information and business websites must be able to keep up with this demand.
Consistency
Today's web users expect a consistent browsing experience when searching business websites. Information should be easily accessible on all types of devices and the navigation and overall layout should be familiar. If a business fails to meet customer expectations, it can expect to experience a high bounce rate and frequent page abandonment.
Navigation
Customers depend heavily on a website's navigation to bring them to the information they want to see. If a website's navigation is confusing or hard to see, customers may leave the website in search of a competitor. Keep the navigation on the website simple but concise.
Whitespace
Too much clutter on a website can make it difficult to read and navigate, especially when viewed on smaller screen sizes. Responsive websites often have more whitespace for this reason. Padding and margins should not disappear on smaller screens and font size and lining spacing should automatically adjust to create the right amount of whitespace on the page.
Images
One of the final elements that should be considered when building a responsive website is the images placed on each page. Images naturally tend to load slower than text which can influence a user's patience and willingness to stay on the page. Webmasters must take this into account when building a website to ensure that customers remain satisfied.
Whether or not a website is responsive can also affect other areas of business, such as marketing. When a website is not responsive, it can create challenges in terms of search engine optimization (SEO) as it becomes more difficult to optimize links for both desktop and mobile websites. The use of responsive web design helps prevent these types of issues and can save webmasters time and energy.
Why Build A Responsive Website?
The importance of a responsive website for cannabis dispensaries is irrefutable. Here are some of the top reasons for dispensaries to build a responsive website:
1. Improve Customer Experience
Responsive websites generally result in a better user experience. When a customer enters a search term or URL and ends up on a website, they expect the experience to be positive. If users find it difficult to navigate or are forced to zoom in to read the text, it can create a poor customer experience and they may look elsewhere for products.
2. Receive More Web Traffic
If a cannabis dispensary already has a website but is not getting the traffic they want, it may be because the website is not responsive. Today, people use a wide range of devices to access the internet and businesses must be prepared by having a responsive web design that can accommodate all users. Responsive websites are highly versatile and can lead to an increase in web traffic for businesses.


Figure 3.1
Figure 3.1 highlights the impressions and clicks that Pure Oasis received from May 2020 to May 2021. It demonstrates the different platforms that users are connecting to their website, including desktops, tablets and mobile devices.
3. Track Analytics
A responsive website makes it easy to monitor analytics which can help business leaders better understand their customer base and what people are searching for online. Businesses that have separate websites for different devices are tasked with monitoring multiple analytics. However, a responsive website is just one website, meaning only one analytics must be tracked. This can save business leaders a significant amount of time.
4. Save Time On Web Development
In years past, businesses would create a separate mobile version of their regular website to accommodate smartphone users. This mobile version was specifically designed for smaller screens. Unfortunately, creating separate websites for each type of device can be a highly time-consuming and costly endeavor. With responsive web design, just one website needs to be created that can be used on all types of devices.
5. Experience Lower Maintenance
Maintaining a separate mobile website requires additional support and more frequent testing. Separate desktop and mobile websites also mean different administrative interfaces and possibly different designs. Responsive web design takes on a "one size fits all" approach which means less time is spent on maintenance and testing. Responsive websites do not generally require as many changes and when changes are necessary, they only need to be made once.
6. Boost SEO Efforts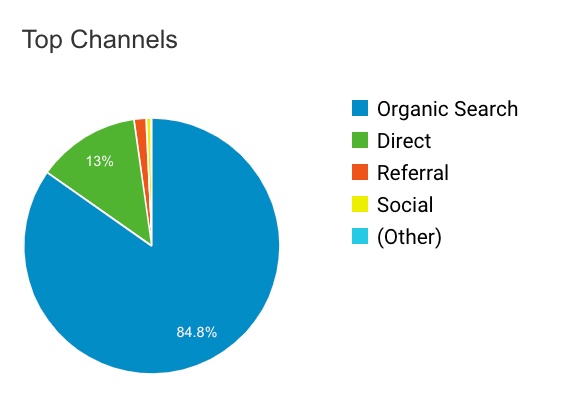 Figure 3.2
Marketing is critical for businesses in all industries but especially cannabis dispensaries that are relatively new to the marketplace. SEO is one of the most effective ways to drive traffic to a website organically. Google and other search engines often favor websites that are responsive compared to those that use different designs across devices. Responsive websites often appear higher in the search engines which may translate to higher traffic and a boost in profits.
Figure 3.2 shows a pie chart of the different ways that users enter Pure Oasis's site. Here, we can see that organic search, from SEO, is the greatest source of incoming traffic to their site.
7. Achieve Fast Load Speeds
Businesses with responsive websites often experience faster page load speeds compared to businesses that are not responsive. Many web users have short attention spans and businesses must find ways to instantly grab the attention of readers before they look elsewhere for the products or services they need. Ideally, a web page should not take longer than three seconds to load or a business risks losing a customer.
8. Avoid Duplication Penalties
Search engines often penalize websites that put duplicate content on the web. When a business has two or more versions of their website to accommodate multiple types of devices, the search engines may see these different versions as duplicate content. When a website is penalized by Google, it may drop in the search engines making it more difficult for web users to find and click on the site.
9. Enjoy High Conversion Rates
There are many aspects that go into achieving high conversion rates, including factors like bounce rate and overall user experience. When a user is searching a website, they want to find what they are looking for quickly and do not want to be redirected to another website as this lengthens the search process. Having a single responsive website can increase customer satisfaction, possibly leading to higher conversion rates.
10. Retain Brand Consistency
Customers want to purchase products or services from a brand that they know and can trust. Having a responsive website can help businesses achieve a consistent brand and design that is not easily achieved when a company has multiple website designs. Responsive websites maintain the same design across all devices, making the sites appear more professional and trustworthy.
11. Expect More Sharing
When a responsive website is developed properly, businesses may experience an uptick in sharing on social media platforms like Facebook, Twitter, Instagram and Pinterest. These social shares can help more people find the website and become familiar with the brand. Responsive web pages should always be combined with social media buttons that make it easy for readers to share links on social media.
12. Receive More Backlinks
Quality backlinks can make a business website appear more credible in the eyes of Google and other social media platforms. High ranking websites are more likely to link to a business website that is responsive compared to a website that is not consistent across all devices.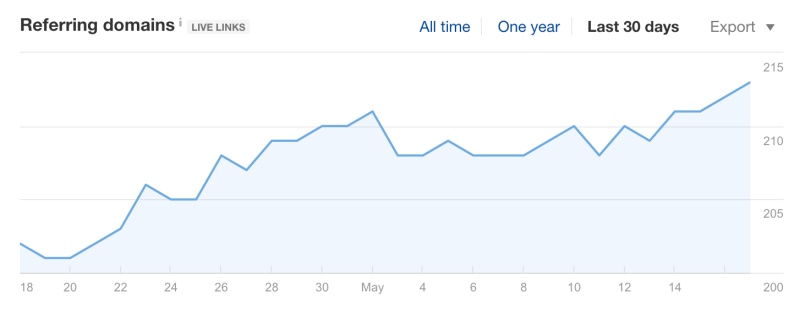 Figure 3.3
Figure 3.3 shows the backlinks that were gained for Pure Oasis from April 17, 2021, to May 17, 2021.
Learn More About Responsive Web Design
Developing a responsive website can provide cannabis dispensaries with a wide range of ongoing benefits. To learn more about the importance of a responsive website for cannabis dispensaries or to speak with an experienced web design team about creating a responsive website, contact the web design experts at 321 Web Marketing today.
Related Articles: