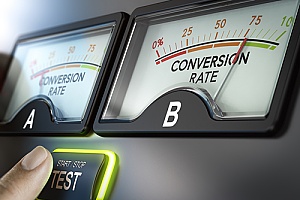 When it comes to online marketing for insurance agents, data is the most important factor. Data can tell you a lot about how your digital marketing campaigns are performing, whether your website is attracting visitors and or your advertising methods need to be reviewed. If you own or operate an insurance agency, you may be seeking ways to gain more attention on the web. Luckily, insurance agencies can now measure the value of their online marketing by using A/B testing<.
What Is A/B Testing?
In its most basic form, A/B testing is a way for businesses to test the response to two versions of something in order to figure out which version performs best. In today's highly digitized market, businesses often use A/B testing to compare two variations of an online campaign, such as an ad text, landing page or call-to-action. Also known as split testing, an A/B test allows business owners to ask focused questions about changes to an app or website. Data about the impact of these changes can then be collected, When you are able to measure the impact of changes you make, you can help ensure that any future changes result in a positive outcome.
What Are The Benefits For Insurance Agencies?
A/B testing functions as an experiment to determine which variation of an online experience performs best. This is done by presenting each version to users at random and then analyzing the test results. A/B testing can do more than just prove how certain changes can improve the online performance of your business. When used consistently, this data can help improve the overall user experience of customers and prospects.
Increasing Conversion Rates
With A/B testing, insurance agencies can learn how to create content that converts visitors on their website into buyers. To get started, you will want to create two versions of a campaign or asset. For example, you may want to create two headlines or two CTA buttons to see which is more effective. When these go live, you can start the process of determining which works best and why it is the better choice. While crafting two versions of the same campaign can be more time-consuming, this method has proven useful in converting more leads.
Which button are you more likely to click?
Actionable Campaign Analysis
The information that you collect during an A/B test can tell you a lot about how your users respond to different variants. However, you do not want to just look at a single metric when performing these tests. Instead, look at the bigger picture to determine where you can make improvements. For example, your main goal may be to improve conversions for your insurance agency. However, conversions are not the only thing you want to focus on when analyzing your results. It is important to consider other metrics that you might not have expected, such as how your increase in conversions has affected your session time or engagement.
Bounce Rate Reduction

Bounce rate is a common metric used to measure the percentage of visitors who land on your website but leave without taking any action. It can be frustrating to see that your website has a high bounce rate, especially after you have taken a lot of time to improve your content and optimize your site. If you are experiencing a high bounce rate, consider A/B testing. Whether you need to make changes to your headlines, change your fonts or make some other type of modification, you may find that a few simple changes can make all the difference in your bounce rate percentage.
Figure 1.1 shows Google Analytics Data from January 1st, 2020 to July 8th, 2020 for JMG Insurance Agency. As shown in the graph, their bounce rate significantly dropped in May due to the use of A/B testing, while the smaller graphs show their pageviews and users remained consistent.
Increasing Overall Leads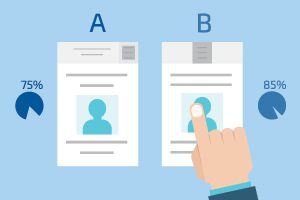 Every business wants to increase the number of leads they see on a day-to-day basis, but most do not know how to get started. Running A/B tests can be an effective way to learn how to drive traffic to your site and generate a larger number of leads from the visitors that arrive to your website. A/B testing also has the potential to bring your insurance agency other key benefits, such as higher page engagement and improved content. There are countless optimization opportunities that businesses can take advantage of and see fast results.
Speak To The Insurance Marketing Specialists
Growing an insurance agency is not always easy, especially if you reside in an area where there is a lot of competition. You must make your business stand out from the crowd, and the internet is a great place to showcase your agency. Of course, getting to know your customers and how they react to your website and content can help ensure that you are providing what your audience wants. A/B testing can give you an advantage over your competition. For more information about why insurance agencies should use A/B testing or to find out if A/B testing is right for your organization, contact the content marketing experts at 321 Web Marketing.