The number of high-quality SEO tools on the market is constantly growing, providing access to more information that can inform web marketing than ever before. Whether you are looking at traffic, leads, revenue, authority, engagement, or rankings, SEO metrics are the best way to gain the key insights needed to determine how well optimization strategies are performing.
Having access to more information may sound positive, but the vast number of figures and metrics available in the Big Data age can make the job of optimizing websites more complicated. Successfully separating the most valuable information from background noise is the key to making improvements that matter. Although Google uses around 200 ranking factors in its algorithm, some carry far greater weight than others.
This guide will identify the metrics that have the greatest impact on both local SEO and national SEO campaigns.
Measuring Organic Traffic With Google Analytics 4
Although overall traffic may be the number many website owners are fixated on, organic traffic is one of the best indicators of a website's SEO performance. Month-over-month rises in visitors coming from organic search is a strong sign your rankings are climbing – sometimes for keywords that you were not even originally targeting.
With this metric, you have quantifiable evidence that your efforts are successfully bringing in more visitors and leads – and if everything goes well, this could equate to more conversions.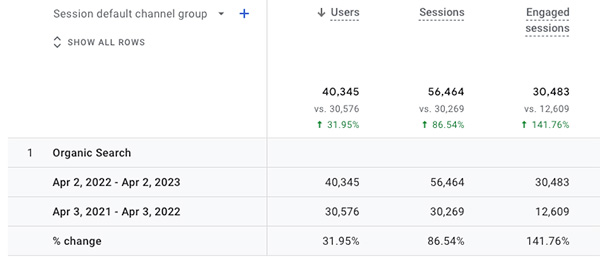 In Google Analytics (GA4), you are able to set all types of filters and parameters on your site's data, including organic traffic. Once logged into your Google Analytics dashboard, select the icon for reports on the left sidebar. The reports snapshot should be the first page you see, where you are able to see an overview of data for new users, users by channel (organic search, direct, etc), user by country, and much more.
View All Organic Traffic
In order to view only organic traffic, select the acquisition dropdown and then the traffic acquisition selection within the dropdown.
From there, click on the "add filter" icon where a "build filter" sidebar will pop out from the right.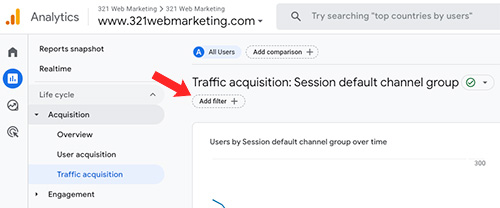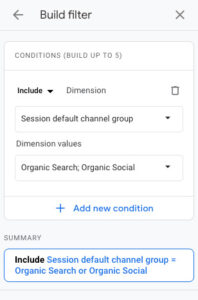 To view the entire site's organic traffic, select session default channel group and then select both organic search and organic social options under the dimension values dropdown.
View Organic Traffic By Landing Page
Needless to say improvement to your website's overall organic traffic means things are moving in the right direction, but those metrics don't necessarily equate to and increased amount of leads. In most cases, there are certain pages on your site that you are looking to increase organic traffic for, which means you need to monitor the growth of organic traffic and engagement metrics for these pages specifically.
To view these metrics on a more granular level, include multiple conditions within the "build filter" sidebar.
For example if I wanted to view metrics for both the local SEO and national SEO pages, this is how I would build my filter:
First Condition
Session default channel group
Dimension values:

Organic Search
Organic Social
Second Condition
Landing page + query string
Dimension values:

/local-seo/
/national-seo/
View Organic Traffic By Landing Page & Location
For local SEO campaigns, these data filters become incredibly valuable as you are able to not only segment organic traffic data by page, but additional filters allow you to view organic traffic by the location of the user. For instance, if I were having trouble deciding which Northern Virginia city I wanted to target as there was not enough keyword research to influence my strategy, I would simply view my growth of organic traffic by user location.
To obtain data user location data for traffic coming to both the local SEO and national SEO pages, I would build my filter like so:
First Condition
Session default channel group
Dimension values:

Organic Search
Organic Social
Second Condition
Landing page + query string
Dimension values:

/local-seo/
/national-seo/
Third Condition
Region
Dimension values:
Fourth Condition
City
Dimension values:

Arlington
Ashburn
Chantilly
Centreville
Fairfax
Reston
Vienna

Evaluating Domain Authority & Growth Of Referring Domains With Ahrefs
There is no doubt that backlinks are one of the most important factors Google considers when ranking a site. Relevant backlinks from quality domains can boost your site's domain authority significantly. However, another component of backlinks that Google values are new links.
Links that are coming from domains that have not linked to your site in the past tend to carry a greater weight than additional links coming from sites that have already linked to yours previously. After all, if a site has linked to a domain before, it means they already consider it a trustworthy authority; additional links from the same site, therefore, mean a lot less than one coming from a new domain on a site with comparable authority.
Navigating The Domain Portfolio Dashboard
When tracking the growth of 321 Web Marketing's referring domains and evaluating their domain authority, we utilize Ahrefs. Ahrefs is a multi-faceted SEO campaign tool, including the capability of reviewing your website's lifetime history of referring domains and details of each domain's domain authority, dofollow referring domains and linked domains, traffic, and number of links your website have linked within the domain.

Upon logging into the Ahrefs dashboard, navigate to the search bar at the top and enter in your domain's URL (excluding https or http as those options are already selected to the right of the search bar). Before pressing enter or clicking on the magnifying glass icon, make sure you are selecting the domain option you want to view. The search automatically sets backlink portfolio queries to data for all subdomains, meaning if you have multiple subdomains, you may not be viewing the correct data sets for your primary domain.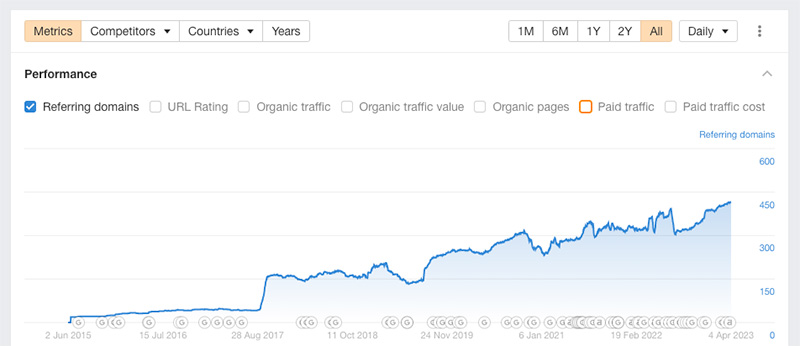 You will then be redirected to an overview of your website's backlink portfolio, more specifically it will automatically direct to the "overview 2.0" view. Within this dashboard you are able to view your website's current domain rating, homepage URL rating, and total amount of backlinks, referring domains, keywords, and monthly traffic value. The first chart is a resourceful SEO tool in which to measure and track your website's referring domain growth over time.
Tracking referring to domains and overall backlinks remains important, but when it comes to growing organic traffic, you will want to see the number of new referring domains rise. Keep an eye on this metric to gauge whether your link-building endeavors are supporting your SEO strategy.
Tracking Click-Through Rates In Google Search Console
A site's click-through rate, or CTR, is a ratio that indicates the percentage of impressions of a page in the search engine results that resulted in a click-through to your website. For example, if 100 searchers are shown your site's listing in search results and five people click on it, your CTR will be 5%.
This is something that can be tracked directly in the Performance module of Google Search Console, and all of the major SEO tools also have a feature for tracking CTR.
It should come as no surprise that the higher your site ranks, the more clicks you are likely to earn. The first page of Google tends to attract 90% of the clicks for a particular query, but the top three positions tend to get most of the traffic.
If your click-through rate is disappointing, there are a few ways you can improve it. First, you want to make sure your page's title is aligned with search intent as much as possible. If it makes sense, try to include a compelling call to action within the title. A short and descriptive URL containing your primary keyword can also help.
You can also attract more clicks by improving your meta description. Make it compelling so readers will be enticed to click through to your site and read more. If you can use it to evoke an emotional response, you may attract more clicks. It is also important that readers understand what they will walk away with after they visit your page so they can decide if it is worth their time.
View More Google Search Console Tips
Organic Conversions
Organic traffic may be an important metric to review, but organic conversions are perhaps even more vital as they can help you to determine if you are getting the right type of organic traffic. After all, organic traffic only attracts people to the site – it doesn't mean you have convinced them to buy from you.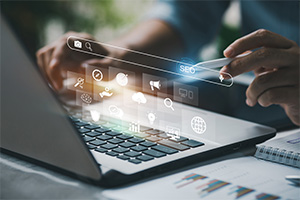 If you are seeing a lot of organic traffic but your conversions in terms of sales, leads or signups are low; it could mean that the wrong people are visiting your site. If you are attracting a lot of readers, but no one is interested in what you are offering, it is time to implement a new strategy.
The first course of action should be examining the keywords that are driving traffic to the site to see if they align with your customer acquisition funnel. For example, you might have an interview with a celebrity that is related to whatever you are trying to sell, and the analytics show that the page attracts a significant amount of organic search traffic but nothing in terms of sales or engagement. This likely means you are attracting fans of the celebrity rather than prospective customers. This type of issue can be resolved by identifying relevant keywords for every stage of the marketer's funnel and creating content related to those keywords.
Aggregate conversion rates for organic traffic provide incredibly useful guidance, but It is also helpful to narrow down the organic conversion rate into different segments to see which factors are having the biggest impact on your conversion rates.
By Landing Page
Measuring conversion by landing page can help you identify any landing pages that lack an effective marketing message. Conversions are typically won or lost on the landing page, so those with high conversion rates can point you towards approaches that are more likely to succeed.
By Browser
These days, most internet users have a favorite browser that they tend to use exclusively, and if your site is unfriendly to even one browser, you could be missing out on a significant amount of potential traffic. Therefore, checking the conversion rate by your browser for organic traffic can be very insightful.
If you discover that users on one browser are converting at a much higher rate than people using other browsers, you need to ensure that the site displays and runs smoothly across all popular browsers. If your site is not working on a specific type of browser, correcting this could lead to a huge jump in earnings.
By Device
Appealing to mobile audiences has shifted in recent years from a nice bonus to a vital step that no business can afford to skip. Data for the conversion rate by device for organic traffic will show you how well your site is appealing to visitors who are using mobile devices. Should you find that desktop user conversions are significantly higher than those for users on tablets or smartphones, it is time to look into optimizing your site better for mobile audiences.
By Location
Tracking organic conversions based on geographic location could reveal that your site messaging is only appealing to people in certain areas. This might mean that you need to create additional content aimed at appealing to areas where your conversions are lacking. It is also a good idea to devote more marketing efforts to people in the regions that seem most interested in your message.
Pages Per Visit
The average number of pages a visitor views while on your site can show you how well you are moving potential buyers deeper into your conversion funnel. If you find that most visitors are only viewing one page before leaving, it means you are missing out on a valuable opportunity to convert them.
Some visitors will not be ready to buy, so look for other ways of engaging with them and keeping them interested in the content on your site. If your pages per visit are low, make sure you are using an intuitive page layout with navigation that is easy for visitors to understand.
Internal links are a great way to direct visitors to other pages on your site, and topic clusters can give people a next step to take that is related to the theme that interests them. You can also add engaging content such as surveys or videos to encourage visitors to interact with the site and stay for longer.
Top Exit Pages For Organic Traffic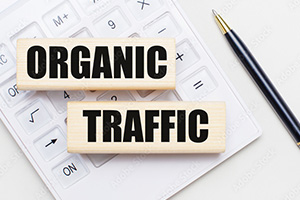 An exit page is the last page a person visits before leaving your site. Everyone has to stop browsing a site at some point, but it can be very revealing to look at the top exit pages, as these are the ones that are causing people to lose interest in the site and head elsewhere. Look for ways to improve those pages so that visitors will stay on the site longer and make their way down the sales funnel.
Page Speed
Another good SEO metric to track is your page speed, which is a measurement of how quickly the content on every page of the site loads. Long page loading times can create a bad user experience and deter visitors from staying on your site. Therefore, Google considers this metric when assigning SERP rankings.
There are two main ways that page speed is defined. The first is page load time, which is how long it takes to display all of the content on a page, and the second is the time to the first byte, which is the length of time it takes for the visitor's browser to receive the first byte.
Google's PageSpeed Insights tool is useful for tracking this metric, but other SEO tools will also provide feedback. In PageSpeed Insights, each page is assigned a score, and the tool also makes suggestions for ways to improve the performance of specific pages.
Keyword Ranking Changes
Another metric all businesses should monitor is keyword ranking changes. This shows the position of your web pages in the search engine results for specific keywords or queries. These may be low at first, but as a website grows, it makes sense to try to rank higher for keywords that attract a bigger volume of searches.
Keep in mind that web traffic is very sensitive to even the slightest change in keyword rankings, with a movement of just one position up or down leading to the loss or gain of a significant amount of traffic.
Keyword ranking is crucial for indicating how effective your current SEO efforts are. It can also be used to guide keyword selection. For example, if you are not seeing any improvements in your rankings for the keywords you've been targeting, it may be time to start trying to rank for a less competitive keyword first and then ramp up your efforts from there.
Core Web Vitals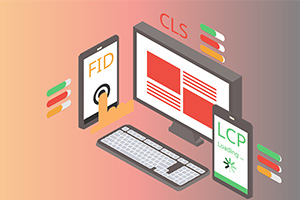 Google has long been telling search marketers that they need to focus on providing a good user experience, and now they are ranking sites based on signals known as Core Web Vitals. These are factors that Google deems important to the overall user experience on a web page. There are three specific factors that are assessed:
1. Largest Contentful Paint (LCP)
Largest Contentful Paint is a measurement of how long it takes for a page to load from an actual user's point of view. It is the amount of time it takes after clicking on a link for most of the content on the page to become visible on the screen. Other page speed metrics are not as good at representing what it is like when users open webpages, so LCP sets itself apart by focusing on being able to see and interact with the page.
LCP data across the entire site can be viewed, so it is possible to get a list of URLs that are good, poor, or need improvement. The objective is for every page on the site to reach LCP in 2.5 seconds, which can be very challenging for bigger pages and those with lots of features.
One good way of improving LCP is removing third-party scripts that are not truly needed. If this doesn't help, it may be time to consider upgrading your web host or removing page elements that are particularly large and slowing down the LCP. Lazy loading can also help as it makes it so that images will only load when a visitor scrolls down the page.
2. First Input Delay (FID)
The next Core Web Vital is known as First Input Delay. It measures the time it takes for users to interact with the page, whether it is choosing an option from within a menu, entering their email address into a field, clicking on a link within the navigation of the site, or opening accordion text on mobile devices. FID is important because it considers how real-life users interact with a website.
For pages that are entirely made up of content, such as news articles or blog posts, there is not much interaction beyond scrolling down a page, so this metric is less important. However, for pages where users log in, sign up, or need to click on something quickly, it is incredibly important. On a login page, for example, how long it takes for all of the content to load is not nearly as important as how quickly a user can begin entering their login details.
FID can be improved by minimizing or deferring JavaScript on the page, along with any other non-critical third-party scripts. Using a browser cache can also help content on the page load faster.
3. Cumulative Layout Shift
Cumulative Layout Shift, or CLS, is a measurement of how stable a page is while it is loading. Also known as visual stability, it tells you if the elements on your page are moving around as your page is loading.
The goal is to have page elements remain as stable as possible while they load up, so users do not have to figure out where the links, images and fields on the page have relocated to once the page has fully loaded. When these elements move around, it can also cause users to click on something inadvertently.
To reduce CLS, setting size attributions for media such as GIFs and infographics can let a user's browser know how much space the element will occupy on the page so it won't change on the fly when it is fully loaded.
It is also good practice to add new UI elements below the fold, so they do not push content down that users are expecting to remain fixed in place. In addition, you can give ad elements a reserved space on the page, so they do not appear suddenly and push content down, up, or to the side of the page.
Text Readability
One factor that has taken on greater importance with Google in recent years is text readability, which describes how easily your message can be understood and digested. Good readability creates a smoother experience for users, and search engines like Google and Bing like to see text that is easier to comprehend. People visiting your site from search engine results want the information to be concise, quick and understandable; if it is too difficult to comprehend, they will bounce quickly and hurt your ranking over time.
Many SEO tools will analyze a page's readability by looking at factors such as sentence and paragraph length and the use of transition words and active voice. For example, Yoast will assign a readability score to individual web pages based on the Flesch-Kincaid reading ease equation. This breaks down numbers into grades that correspond to the educational levels at which the text would be considered easily readable.
With the Flesch-Kincaid scale, numbers from 60 to 70 align with an eighth- to ninth-grade reading level, which is considered ideal for plain English. A higher score, such as writing at a fifth-grade level, is considered better in terms of making writing understandable, but this can backfire as audiences might feel as though the business thinks they are not intelligent.
If you find that some pages are falling short when it comes to readability, there are a few ways to improve this metric. First, content should be edited, so it uses simple wording and shorter sentences that are easier to read. Find shorter synonyms for longer words, and use contractions to decrease the length of your sentences. Longer sentences may hide answers, and most visitors will not want to wade through the fluff to find the answers they are seeking.
Creating a scannable structure with short paragraphs and subheads is essential. For longer pieces, a table of contents can be added at the top to help users skip around. For more complex or technical topics that are difficult to describe succinctly, focus on simple explanations supported by plenty of visuals, such as images, charts, infographics and videos.
Schedule A Free Consultation With 321 Web Marketing
SEO is becoming increasingly complicated, which means measuring success requires significant experience and expertise. Individual metrics cannot provide enough insight to create a successful strategy on their own. Instead, it is vital to understand the bigger picture and stay on top of the latest changes to Google's algorithm.
321 Web Marketing is an experienced web marketing agency that can help your business achieve higher search engine rankings, build a solid brand reputation and attract more customers. Contact us today to schedule a free consultation.
Related Articles: