Search engine optimization (SEO) determines how websites rank in the search engines. Developing an effective SEO strategy can boost a business's online visibility, target quality traffic and generate profits. Search engines look at a multitude of factors when ranking websites.
Top 14 SEO Ranking Factors in 2021
Here are the most important SEO ranking factors in 2021 and how to use them to rank well in the SERPs.
1. Website And Page Speed
Speed is critical to the health of a website. According to a study published by Forrester Consulting, the average online shopper expects a web page to load in about two seconds. The study shows that approximately 40 percent of shoppers will not wait more than three seconds before abandoning a slow-paced website.
Google scores desktop and mobile versions differently in terms of page speed. Therefore, businesses must ensure that both versions perform optimally to prevent visitors from abandoning the site. There are many ways to improve page speed, such as by choosing a quality hosting solution, compressing images and reducing redirects.
2. Usability On Mobile Devices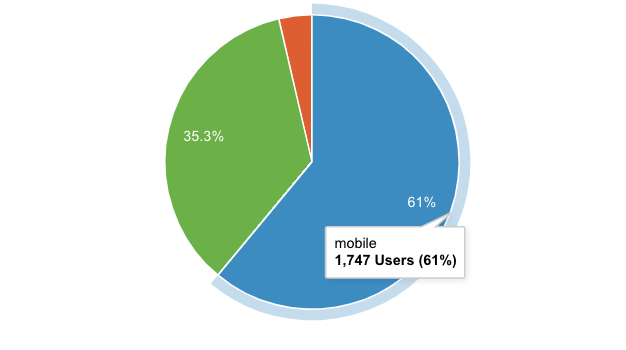 Figure 2.1
The number of mobile internet users in 2020 stood at 4.28 billion, according to Statista, indicating that more than 90 percent of the global internet population uses a mobile device to search online. Creating a mobile-friendly website is not just convenient but is also critical to a business's SEO strategy.
When designing a mobile website, ensure that it is responsive, meaning it automatically resizes to fit the device. Content should not be hidden by ads and there should be accessible menus that make the website easy to navigate. Also, use large fonts that are easy to read on a small screen.
Figure 2.1 shows a pie chart that displays how many potential customers view one of our clients' websites, Waterprpoof Caulking & Restoration, through mobile devices.
3. Inbound, Outbound & Internal Links
There is a direct correlation between the quality and quantity of links that a website contains and how much search traffic it receives. Search engines look at several factors when evaluating the quality of a link, such as its relevance to the web page content, the authority of the website and the diversity of links.
Businesses can use three main types of links to improve SEO. Inbound links are links that come from other websites or another domain name. Outbound links are links on a website that link to websites with a different domain name. Links between different pages within the business's own website are considered internal links.
4. Keyword Targeting
SEO keywords refer to keywords or phrases used in web content that make it possible for online users to find the website organically through search engines. Keyword research can provide businesses with valuable insight into consumer search queries that the company's target audience is actually searching for on search engines.
There are several steps in the keyword research process. Start by creating a list of important and relevant topics related to the business. Research related search terms to find words and phrases that can optimize the business's content. Keyword research tools can be useful for identifying the best-performing keywords and phrases.
5. Domain Name & Authority
Domain names are the unique internet addresses of websites. A domain name is made up of three main components: a top-level domain, a domain name (IP address) and an optional subdomain. The term "root domain" refers to the combination of the domain name and top-level domain.
To maximize search engine traffic, choose a domain name that is memorable and includes broad keywords when they make sense. Another important SEO ranking factor is domain authority. Acquiring a good domain authority requires businesses to practice good SEO techniques that focus heavily on building authoritative backlinks.
6. User Experience
User experience (UX) is how a person perceives their interaction with a particular product or service, either at the time they are using it or at the time they are browsing a website or app. There are several main aspects of UX, including accessibility, usability, interaction and communication style.
There are many ways that businesses can create a better web page experience. Start by looking at how content is displayed. Break up content into small paragraphs with meaningful heading tags, optimized images, and the use of ordered lists or bullet points. Test each page on different mobile devices to ensure a smooth user experience.
7. Website Security & Accessibility
Brand reputation plays a direct role in the effectiveness of SEO. Customers are depending on the business to securely manage their private information and money. If consumers lose trust in a business, it can cause a loss of revenue. Do not allow search engines to blacklist a business website due to poor security.
Website accessibility is also an important aspect of website optimization. A website should be usable and accessible by everyone, including individuals with cognitive, auditory, physical, visual or neurological impairments. Accessible websites allow all users to easily navigate the site and find the information they are looking for.
8. Meta Description
A meta description is an HTML attribute that delivers a summary of a web page. This brief description is generally displayed by search engines on the results pages and can directly influence click-through rates. Although a meta description can be any length, Google limits snippets to 160 characters.

Meta descriptions give businesses the opportunity to advertise their content and encourage web searchers to click by letting them know exactly what the page is about. When creating a meta description, add words that give value to the page. Include a call to action, such as "click here" or "view video."
Figure 8.1 is an example of a meta description for one of 321 Web Marketing's clients, New City Insurance, for their homepage.
9. Title & Header Tags
Title and header tags deliver context and structure to content. These tags should provide the reader with a basic understanding of what information they will find in the section that follows. Header tags typically range from H1 to H6 with H1 introducing the reader to the topic, H2 introducing main topics, and H3 to H6 serving as subheadings.
The title tag belongs in the "head" section of a web page and is used to identify the title of the web page. It is usually a clickable headline when seen in the SERPs and social media channels. A title tag should provide the reader with a clear idea of what the page content contains.
10. Social Signals
Although Google has previously reported that social shares are not a direct ranking factor, there seems to be a strong correlation between websites with high social shares and high-ranking websites. More social shares generate more traffic to the website and make the content more likely to build backlinks.
For these reasons, generating more social shares can help a business improve its search engine rankings. However, this requires businesses to create a strong presence on social media sites like Facebook, Twitter and Instagram. Share content regularly on social media to heighten social signals.
11. Optimized Content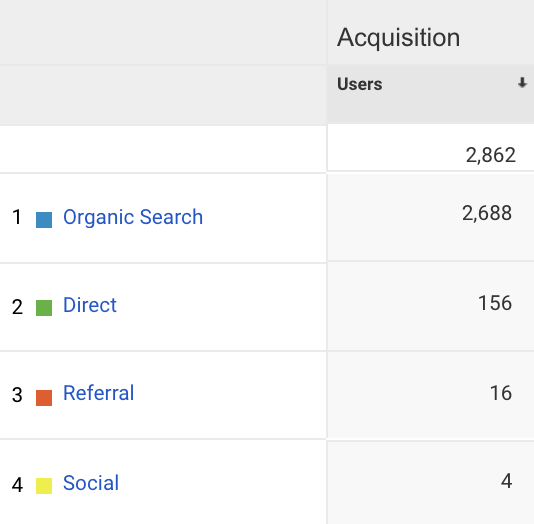 SEO and content go hand-in-hand so it makes sense that having optimized content will help a website rank in the SERPs. People use search engines every day to find information, products, services and answers to questions. Publishing original, high-quality content is the foundation of any trustworthy and well-optimized business website.
There are many types of SEO content that businesses can publish to help them rank better in search engines. This includes product pages, blog posts, articles, guides, lists, slideshows, infographics, videos, directories and glossaries. It can also be useful to have a mix of these content types.
Figure 11.1 shows where traffic is coming into a website from. Here, we see that the large majority of traffic is entering the site through organic search, which can be attributed to SEO marketing efforts.
12. Image Alt-Text
Alt text, otherwise known as an alt attribute or tag, is a small snippet of information that describes an image. Originally, alt text was used as an aid to the blind or visually impaired to let them better understand what an image portrays using screen reader tools. Today, alt text can serve multiple purposes, such as improving a website's SEO.
When alt tags are used with an image, search engine crawlers can better understand what the image is trying to portray and can index the image correctly. Alt text can also be useful when a browser is unable to render a web page properly. In place of an image, the page will show the alt text which describes what the user should be seeing.
13. Real Business Information
Businesses that have a brick-and-mortar location may rely on local search to draw in customers. When targeting particular areas, it is important to provide real business information. Up-to-date and accurate real business information plays a critical role in local SEO ranking factors.
Real business information includes several key pieces of information that help local customers find the business, such as the NAP (name, address and phone number), reviews on directories like Yelp, and business listings on social media and Google My Business (GMB).
14. Site Crawlability
Search engines rely on bots called "crawlers" or "spiders" to browse, index and rank millions of web pages across the internet. Crawlable sites have several common characteristics, including a clear layout, simple sitemap and easy-to-access internal links that point to each page of content.
Sites that are not crawlable also have some similar characteristics, such as an incoherent sitemap, 404 errors, broken links and dead-end web pages. When trying to rank in the search engines, it is important to ensure that the website can be easily crawled and indexed.
Schedule A Consultation Today
High rankings in the search engines can help businesses improve their online brand visibility, attract new and repeat customers, and create a solid reputation that helps consumers see the business as reputable. Working with an experienced web marketing agency can help businesses rank in 2021. For more information or to request a consultation with a Northern Virginia web marketing team, contact the experts at 321 Web Marketing.
Related Articles: