A digital marketing campaign can reap significant rewards for businesses across all industries. As people spend more time than ever using online channels and technology continues to advance, marketers are gaining better insight into how to effectively reach out to potential customers and keep current clients satisfied.
A good digital campaign can target the right audience to generate a consistent lead pipeline, drive conversion, and boost brand credibility. Therefore, it should come as no surprise that digital marketing has quickly become the most effective type of marketing for most companies. Its lower cost and higher conversion rates than traditional marketing are strong selling points.
However, businesses need to understand that this is not a "quick fix" solution. The most effective digital marketing campaigns can take considerable time to produce recognizable and durable results. It can be tempting to give up on a campaign that looks like it is not performing as expected, but even the most successful digital marketing strategies are unlikely to yield meaningful results until at least 6 to 12 months have passed. It may take even longer for the full effects to be realized.
Being realistic about the timeline can help businesses avoid experiencing disappointment or giving up on their efforts prematurely. Understanding the factors that influence digital marketing campaign timelines and knowing how to tell when a campaign is on the right track can aid businesses in managing their expectations.
Factors Which Influence Digital Marketing Results Timelines
When attempting to determine when your digital marketing campaign will begin producing results, it's important to understand that every single campaign is different. Due to the litany of ranking signals within Google's search algorithm and varying circumstances for every organization, pin-pointing a result oriented timeline is nearly impossible. However, there are factors which can be analyzed and leveraged which can improve the accuracy of when to anticipate results.
The Competitiveness Of The Industry
One of the biggest factors that influences how long it can take to see results from a digital marketing campaign is the industry in which a business operates. Some fields are inherently more competitive than others, such as law firm industry or dispensary industry. In addition, if a business's competitors already have a very strong online presence, it will take a significantly greater effort to outrank them.
Businesses can increase their chances of succeeding in an industry with a competitive digital marketing environment by ensuring their products or services are high in quality. Even the best digital marketing campaign is unlikely to make a low-quality business a true competitor in its field. However, those businesses that offer excellent products or services can find and convert new audiences with a well-planned digital marketing campaign.
Consistency Of Content Generation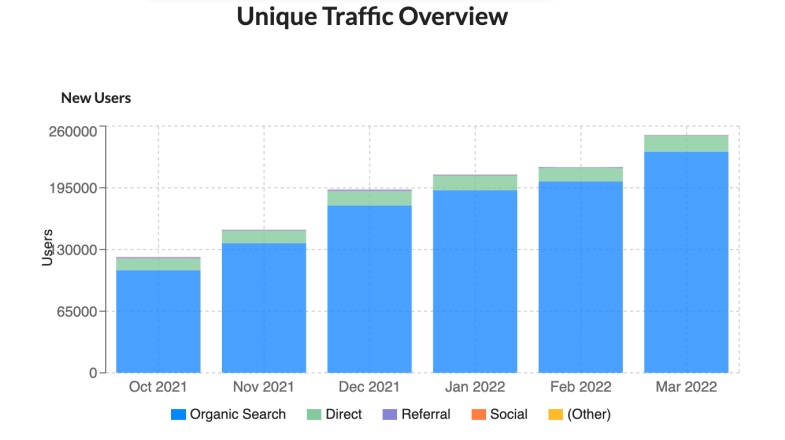 Being consistent with content is the best way to achieve sustainable results. A study carried out by HubSpot found that companies that publish 16 blog posts per month or more enjoyed 3.5 times more traffic than those who post blogs four times a month or less. The study looked at data from more than 13,500 companies to make this determination, and it demonstrates the utility of posting high volumes of content on a consistent basis.
When working with 321 Web Marketing, clients receive a monthly report outlining important data sets from their campaign, such as new website traffic as shown in Figure 1.2.
An Organization's Status At The Start Of The Campaign
A business that begins its digital marketing campaign with a modest following on social media is unlikely to see an immediate boost, but those with tens of thousands of fans or more and a pre-existing social media strategy might notice some growth right away thanks to their solid foundation. The size of a business's existing contact list will also influence the timeline.
However, one positive aspect of inbound marketing is that it is every bit as useful to businesses with smaller followings as it is to those that already have a significant base. Businesses with smaller followings have more room to grow and may note more meaningful engagement with existing followers.
Another factor that can extend the amount of time it takes to see results from digital marketing efforts is the condition of a company's website. Those that contain many problems that need to be addressed may take more time to see results; issues such as thin content, user experience shortcomings and broken backlinks can all impact the timeline.
The business website's current reputation with Google will also play a role. Those that have already built credibility with the search engine may take a shorter amount of time to see results with SEO and content marketing strategies, while those that have a poor search engine reputation will need to invest additional time in fixing and rebuilding. The reputation of the business's competitors with Google is another consideration; if the company's top competitors already enjoy a robust online presence, it could take a year or longer of steady publishing to start making inroads in the search engines.
The Type Of Digital Marketing Campaign
There are many types of campaigns that digital marketers can launch to meet a business's specific goals. Each approach has its own timeline that will impact how long it will take to see overall results.
On-Site & Off-Site Content Campaigns
On-site content is one of the best ways to enhance a business's digital marketing efforts. This may include approaches such as publishing blog posts, tutorials, case studies, e-books and other types of content directly on the business's website to attract and engage prospects and the search engines that rank them. A good campaign will provide search engines with a steady stream of fresh content to index while building trust among readers via authoritative and useful information.
However, unless a business already has a large audience, on-site content is unlikely to provide immediate results. It can take some time for content to start ranking in search engines, which means that the public will not be able to find it right away.
This is a situation in which consistency is the best way forward. When businesses regularly publish content on their website that both search engines and readers find genuinely useful, they can expect to see results in around six months in the form of higher traffic and search rankings.
Off-site content, however, can take longer to provide results. This includes content and awareness campaigns that are promoted, published or distributed on other sites to lead audiences back to a business's website. This content is effective in getting a brand in front of a new audience and gaining attention on the social platforms where the company's target demographic spends time online. It also provides the target site with inbound links that can improve its search rankings.
Although this is a valuable part of any well-rounded digital marketing campaign, the results of off-site campaigns are more challenging to predict than those of on-site campaigns given the many factors involved. Six months is generally considered the minimum amount of time to yield results, after which time companies will often see increases in traffic, conversions, revenue, rankings and brand recognition.
Learn More About Content Marketing
Email Marketing Campaigns
Email marketing campaigns work a little differently from content marketing and SEO campaigns. They can focus on achieving short-term or long-term results depending on the format the email campaigns take and the overall goals of the campaign.
For example, newsletters are designed to keep subscribers informed about what is going on with the company. Those who are on the subscriber list will already be familiar with the brand and may have a previous relationship with it. Company newsletters can be used to announce new product launches, sales and discounts and to keep subscribers informed and drive traffic to the company's blogs and articles. This can result in a quick spike in sales, particularly when the newsletter is announcing product launches or discounts.
Organic SEO Campaigns
Generally speaking, a typical organic SEO campaign will take at least 12 months to reach full optimization. A case study published by Search Engine Journal found that it typically takes around four to six months of sustained effort to create 100 or more organic search results a day on a new website.

Much of the first month of an organic SEO campaign will often be spent evaluating keyword performance data and competitors as well as the company's current organic SEO performance. This will be followed by primary on-site optimization via website changes and off-site optimization through social account updates. This may take a couple of weeks.
A significant amount of time will be spent optimizing for specific terms. On-site optimization might include website changes, blog posts and new pages, while off-site optimization could include link building, online directory listing optimization and social media marketing. Digital marketing agencies will also implement proprietary organic SEO tactics that they have developed based on years of performance analysis.
With a search engine optimization campaign, business may start to notice improvements in their organic rank within three to four months. Improvements from organic SEO may start to level off around a year to 18 months into the campaign, at which point ongoing organic SEO becomes essential for maintaining rank and keeping the competition from gaining an edge.
SEM/PPC Campaigns
A search engine marketing, or paid search campaign, will typically produce faster results than other approaches and entails a lower initial investment, which makes it a good short-term strategy. It is also a good precursor to SEO because of its ability to identify top-performing keywords that are relevant to the business's market. It may be used to complement an SEO campaign and fill the gap for lower-ranking organic keywords. However, as an SEO campaign starts to bring in results for specific keywords, paid search for those terms may be discontinued.
Social Media Marketing Campaigns

Some strategies will involve using social media platforms to communicate with a brand's followers and fans. Targeted keywords can be used in social media communications to support an SEO campaign. Strong social media campaigns will be ongoing and integrated with an overall content marketing strategy that includes article submission, blogging, email marketing and public relations.
Social media advertising is essential for building a fan base and attracting website visits from targeted users outside of the current follower base. Tracking tools such as Google Analytics can make it easier to measure the performance of social media communications.
Advice For Businesses Waiting To See Results
It is easy to get discouraged when a business does not see an immediate return on its digital marketing investment, so here are some points to keep in mind while waiting for results.
Understand That Results May Ebb & Flow
When considering the timeline of digital marketing results, companies must keep in mind that there may be some ups and downs. Results might spike and then decline before growing once again. In a successful campaign, the overall trend will be upward, and minor dips should not be a cause for concern. Traffic can drop for any number of reasons but will usually begin climbing once again toward lasting results in the long run if the campaign has been designed effectively.
Remember That Digital Marketing Campaigns Are Continuously Evolving
One of the biggest advantages of digital marketing is the ongoing ability to collect and analyze performance data and make adjustments where needed. Modern digital marketing uses a measurable, data-driven approach to ensure that companies' marketing budgets are being spent in the most cost-effective manner possible. Digital marketing companies constantly monitor their efforts and make adjustments where required to ensure that their clients will get the results they seek. Google Analytics and other tools allow digital marketers to see what is working and what is not so they can shift their efforts and resources accordingly.
How To Tell If A Digital Content Marketing Strategy Is Working
Outlined below is a basic blueprint for determining if a content marketing strategy is working.
1. Define Success
The first step in assessing whether digital content marketing is effective is having a clear idea of what a business would consider a successful campaign. For some, this might mean meeting a benchmark for leads or traffic. For others, success might mean hitting a certain number of sales or shares on LinkedIn or Facebook, or noting a certain level of month-over-month growth. Without knowing what a business hopes to accomplish with its digital content marketing efforts, there is no way to gauge whether it is successful.
2. Use The Correct Metrics
Before building out a strategy, it is imperative to define the key performance indicators that will be used to measure the efforts. This entails selecting the right metrics for the industry at large as well as the individual business.
For startups, key metrics might include email subscribers, brand awareness and website traffic. More established businesses, however, may choose to focus on metrics such as sales, qualified leads and revenue.

However, regardless of the business's size, there are two metrics that will always matter in a content manager marketing plan: traffic and leads. Without growing a website's traffic consistently, content marketing efforts are unlikely to be effective. In addition, this traffic must generate interest and leads in the business or its content in order to be meaningful.
Figure 3.2 shows metrics of leads coming into a website over the months.
3. Understand The Audience
It is impossible to build an effective digital content marketing strategy without understanding the audience who is being targeted. Digital marketing firms carry out extensive research into a business's audience when they are developing their campaigns.
One approach that can provide greater direction is developing reader personas that can be used to target the ideal consumers through the content. To build personas, businesses should start with basic demographics, such as the age, gender and income of their ideal target. They also need to identify background information, such as their target's career, position and work history. Next, they must develop the persona's personality, challenges and how they search for answers to their problems.
Once a persona has been built, interviews can be conducted with people who meet these parameters to collect more insight. It is essential to learn where the target audience spends time online and the type of content they are seeking to better inform the overall marketing strategy.
4. Set Goals Using The SMART Framework
Goals are a powerful tool for helping a marketing team to perform well, but it is important to establish effective goals in order to reap the most benefits. Research shows that those who get it right could note significant gains, with some studies showing that marketers who set goals are 376% more likely to be successful than those who do not.
The SMART framework can serve as a valuable guide for establishing effective goals. The acronym stands for:
Specific – This means that the goal is clear and focused on a single target. For example, the goal might be to increase traffic to the company's blog.
Measurable – This means that the goal is quantifiable using a specific metric. For example, the goal might be to increase traffic to the company's blog by 75%.
Attainable – This means that the goal must be something that can realistically be achieved. For example, the original goal of increasing traffic to the company's blog by 75% may be deemed too ambitious and adjusted downward to a more realistic 30%.
Relevant – The goal needs to be part of a broader marketing or business goal. For example, the company might aim to increase traffic to its blog by 30% in order to build greater brand recognition.
Timebound – This means that the goal must be attached to a specific deadline. For example, the goal can be to increase traffic to the company's blog by 30% within the next three quarters to increase brand recognition.
Any time that a company is drafting marketing objectives, it is essential to work through the elements of the SMART framework to ensure that they meet the requirements for the best chance of success.
More examples of SMART goals include:
Generating an average of 75 marketing qualified leads per month during the next quarter
Increasing the company's newsletter subscriber list by 500 in the next three months
Creating an email campaign for an upcoming product launch that achieves an average open rate of 25% or higher
Redesigning the company's blog to raise the average time spent per page by 30 seconds within the next two periods
5. Analyze Results On A Regular Basis
Measuring performance is the best way to tell whether the goals that were initially set are realistic or if they need to be adjusted for the next period.
Overarching goals should be revisited from time to time – for example, every three to six months – to make sure everything is on track. Digital marketers will determine which tactics have been helping them to reach their goals and which ones may not be yielding the desired results and need to be adjusted. Strategies should constantly evolve to continue building momentum with digital marketing efforts.
6. Be Patient
Perhaps the most difficult part of the process is giving content the time it needs to gain traction on search engines and build the business's authority online. It is particularly important to be patient in the beginning, when results are more difficult to see. Keep in mind that digital marketing is a long-term effort that is likely to pay off significantly for those who are willing to give it time to work. Instead of obsessively checking traffic stats and fretting over leads, consider channeling that energy into creating more meaningful content to build up the site.
Common Digital Content Marketing Mistakes To Avoid
The following digital content marketing mistakes can slow a company's efforts.
Producing The Wrong Type Of Content
Blogs may be considered one of the most valuable channels for content marketing, but other options can also be profitable. For example, some businesses will find success with eBooks, videos, webinars, courses, reviews, or podcasts.
Producing Low-Quality Content
Content needs to engage the target audience, addressing their needs and providing value. If it is not well-written and authoritative, it will not provide readers with the type of value they seek. Avoid content that is dull, vague, or fails to address buyer personas.
Setting Expectations That Are Too High
Businesses should avoid comparing their results to those of competitors as setting expectations that are too high can lead to discouragement. It is better to compare results to the company's performance at the same time last year or six months ago.
Setting The Budget Too Low
Businesses that do not invest enough resources and time into digital marketing will not get results. Digital marketing is one area of business that is worth adjusting a company's budget to accommodate, and agencies can help generate a maximum return on their investment. Businesses with more modest budgets can focus on more affordable tactics, such as free social media promotion and blogging, while reserving costlier strategies like video marketing and paid ads until their revenue grows. Regardless of budget and publishing frequency, however, it is essential to be consistent.
Failing To Promote Content
Consistent content creation is only one part of the equation; the content needs to be promoted after it has been created in order to build the type of engagement that leads to higher search rankings and traffic increases. Content should be promoted in newsletters, emails and on social media. In some cases, it can be promoted on other websites and blogs that have the same target consumers.
Get Started On Your Digital Marketing Campaign Today!
Digital marketing campaigns can help businesses achieve greater success and rise above the competition, but it requires a high degree of knowledge and experience to devise a winning strategy. A reputable digital marketing agency can help companies expand their online presence and bring in more customers while working within a business's budget.
For more information about successful digital marketing or to schedule a consultation with an experienced Virginia digital marketing company, contact 321 Web Marketing. The knowledgeable team at 321 Web Marketing aims to help businesses grow and succeed through services such as SEO audits and marketing, content marketing, website design and lead tracking.
Related Articles: