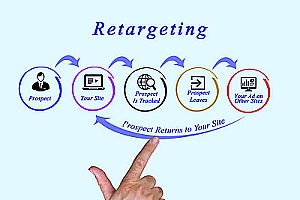 Many insurance agencies are rightly concerned with increasing traffic to their websites. The hope being that more web traffic will attract more clients who will double or triple your conversions. However, just because someone visits your website does not necessarily mean that they will become a client. Through ad retargeting, insurance agencies can track site visitors and remind them of their services throughout an indefinite period, encouraging them to check out their products or reconsider their services.
While a professional insurance marketing agency can provide an in-depth ad retargeting plan, read more about how you can retarget your own insurance marketing campaigns and vastly improve your conversions.
What Is Ad Retargeting?
Put simply, retargeted ads are a form of online targeted advertising that are sent to people who have already visited your website or are a contact in your database. Ad retargeting tracks these "warm leads" long after they leave your site, allowing you to reach back at opportunistic points in time.
On a technical level, code embedded in your website will allow for the placement of cookies in users' browsers, which follow them as they scroll through the web. Cookies then allow retargeting vendors, such as AdRoll, to place ads for your website on other sites that the user visits. This allows you to continue advertising to potential customers after they have finished browsing your site, reminding them of your services. Ad retargeting can be an effective addition to your marketing strategy and can be used in conjunction with other marketing methods to increase your client base.
Benefits Of Ad Retargeting For Insurance Agencies
Ad retargeting is significantly more effective than traditional forms of marketing. This is because, unlike other forms of marketing, it ensures that potential clients are always viewing your services, brand name, and other pertinent information. After they have shown interest in your services, ad retargeting ensures that they that interest percolates long after by reminding them on a regular basis about your services.
Because people are more likely to purchase insurance services from a company that they have heard about before rather than an unfamiliar one, ad retargeting can be an invaluable asset in building you brands familiarity and thus credibility with your target audience. This alone can turn the digital "window shopper" into a loyal, lifetime client.
Reach & Obtain More Qualified Leads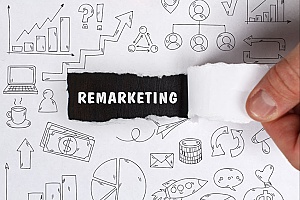 Ad retargeting is particularly beneficial to insurance agencies for several reasons. In addition to promoting brand awareness as previously described, it can also help you reach more qualified leads. People who are seeing your retargeted ads have already expressed some interest in your services. Thus, instead of spending your valuable advertising dollars on ads with a broad reach, retargeting allows you to focus on an audience that is already more likely to become clients.
Increase Brand Awareness & Credibility
Retargeting can also give you an advantage over the competition so your insurance agency stands out. Because it is a relatively new technique, few insurance agencies are currently using these services. Using retargeting can therefore position your insurance agency as an industry leader, allowing you to appear far more widespread (across the web), lending to more credibility and recognition within the insurance industry and among potential clients.
Improve Engagement & Conversions
Finally, ad retargeting can provide you increased client engagement by creating customized retargeted ads for your potential clients. An insurance marketing agency can further segment your audience according to which parts of your website they visited, then create ads for each segment. This can increase user engagement with your brand and content, as well as encourage people to take the time to familiarize themselves with your services, operations, and brand. This familiarity can be a key factor in whether they choose to do business with your agency or opt for a competitor.
Hiring An Experienced Insurance Marketing Agency
Speak to an insurance retargeting agency for more information and to schedule a free consultation. 321 Web Marketing is highly experienced and proficient in using ad retargeting to create effective insurance marketing campaigns. Our staff conducts extensive research into the needs, competition, and ideal customer base of each client. This information is used to develop customized marketing plans designed to increase revenue and boost client lists.
321 Web Marketing can work with insurance agencies of all sizes, whether your agency has its own marketing department or not. We will work to deliver a steady stream of qualified leads within six months of launching your new marketing campaign and continually monitor it, making updates as necessary to maximize success. Feel free to review our proven history of successful insurance marketing campaigns before determining whether to request an insurance marketing consultation.
Related Articles:
Updated: March 3rd 2020