For many years, brokers and agencies in the insurance industry have acquired leads through traditional marketing methods, including word-of-mouth and face-to-face interactions. Although these ways of acquiring leads have proven to be effective, the introduction of digital marketing has opened the door to new and unique ways of generating leads. By engaging in insurance digital marketing, the online visibility and brand awareness of your insurance agency can increase drastically. By expanding the visibility and brand awareness of your insurance agency, the volume of qualified leads also increases.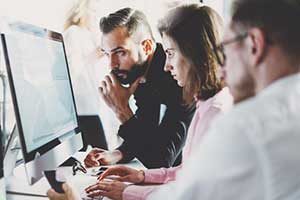 Since leads can be obtained on a national level, many insurance agencies are finding it difficult to reach those leads with the traditional method of face-to-face interaction. A national survey conducted in February 2018 stated that 75% of Americans currently own smartphones. This means that ¾ of people have the ability to search for information through search engines from the palm of their hand. The most popular search engine, Google, averages over 3.5 billion searches per day, and over 1.2 trillion searches per year.
Businesses and individuals can acquire insurance policies through agencies nationwide. This means your insurance agency can acquire clients no matter where they are located in the United States. With insurance digital marketing, your insurance agency can not only acquire more local leads; it can also strengthen the possibility of reaching potential clients who are thousands of miles away.
Preparing An Insurance Digital Marketing Plan
Before creating an insurance digital marketing plan, there are a few key factors you need to establish before you begin.
Identify Your Audience Within the Insurance Industry
Before attempting to create an insurance digital marketing plan, you first need to define the type of audience you will be reaching out to. Begin by establishing the policies your insurance agency offers, in addition to the type of businesses and/or individuals that are most likely to purchase these policies. By focusing your efforts towards an audience who are actively seeking information about these policies, you are providing relevant information to individuals and/or businesses that are most likely to acquire your services. This will increase the probability of obtaining more qualified leads on a consistent basis.
The graph below shows data from an insurance agency that properly identified their target audience before creating their insurance digital marketing plan with 321 Web Marketing.
---

This graph represents the lead report at the beginning of their insurance marketing campaign.
---

This graph represents the lead report a year after the insurance agency began their insurance marketing campaign.
---
Perform Insurance Keyword Research
Now that you have established your target audience, it is time to begin insurance keyword research. Guessing what people are searching is now a thing of the past. We now have the ability to know exactly what people are searching, and how often those queries are being searched. Through software that collects data straight from Google, we can identify keywords pertaining to the insurance industry that are most searched and how difficult it is to rank for those keywords.
If your insurance agency is able to rank for keywords that are most searched for, you become more visible to searchers seeking to acquire your policies. For example, the keyword "employee benefits" is searched over 10,000 times per month and has a keyword difficulty of 29. A keyword difficulty of 29 means that your insurance website will need to acquire backlinks from an estimated 35 domains to rank in the top 10 search results on Google.
The graph below shows the increase of keyword acquisition from an insurance agency that performed insurance keyword research properly.

Figure 1.1: In January 2017, this insurance agency ranked for 753 keywords, 60 of those keywords ranking within the top 10 results on Google. Within two years, the insurance digital marketing campaign helped increase their acquired keywords from 753 to 8,602, and the volume of keywords in the top 10 results on Google increased drastically from 60 to 1,100.
Planning An Insurance Content Marketing Campaign
Once you have identified a target audience and researched insurance keywords that your agency should rank for, you will then use this information to optimize your insurance content on your website. Across all industries, the most important step in any digital marketing campaign is a well researched and executed content marketing strategy. Creating quality content that is both informational and keyword-rich drives the overall success of any digital marketing campaign.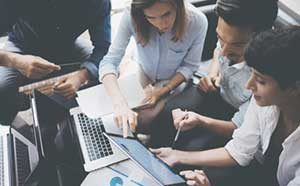 Content that provides useful information about insurance policies or the insurance industry benefits readers and Google alike. For readers, it provides them the knowledge they need to make an informed decision when purchasing an insurance policy, as well as increases their trust that your insurance agency is qualified enough to effectively provide those policies. For Google, it provides context to what your website is about and provides the greatest possibility to rank for the keywords you are targeting.
It is important to establish 1 or 2 keywords your insurance agency wants to rank for when planning your insurance marketing campaign. By creating copy that includes variations of the 1 or 2 keywords established, this increases the likelihood of ranking for those keywords and decreases the length of time needed to rank higher for those keywords. Ideally, your insurance agency should target these 1 or 2 keywords in your content on a quarterly basis. Once the quarter has ended, your insurance agency should review the status of keyword rankings and determine whether to continue to target those keywords or start targeting new keywords.
Figure 1.2 shows the position distribution history for the keyword "insurance broker" for an insurance agency that targeted the keyword in their insurance content marketing campaign.

The insurance agency ranked for "insurance broker" at position 74 in January 2017. After an effective content marketing campaign with 321 Web Marketing, the insurance agency moved to the 4th highest position within 8 months.
Here's more information on how content marketing can help insurance agencies increase their leads.
Executing A Successful Insurance Marketing Plan
After your insurance agency has successfully prepared a well-researched insurance marketing plan, it is time to execute the campaign. The success of an insurance marketing campaign is directly associated with consistent maintenance and adjustments made throughout the duration of the campaign. Proper maintenance and adjustments should be made by analyzing data related to the campaign.
A few metrics that should be analyzed include: rate of referring domain and page acquisition, page bounce rates, volume of new monthly users, and amount of qualified leads. Your insurance agency can only improve metrics that are tracked, so it is important to create a spreadsheet of important metrics over time.
Speak To An Insurance Marketing Agency
Planning and executing a successful insurance digital marketing campaign requires a considerable amount of time and effort. Adding in the time and effort needed to run your insurance agency makes this task seem nearly impossible. Here at 321 Web Marketing, we have a long track record in planning and executing successful insurance marketing campaigns. We take the time to sit down with your insurance agency and understand what your goals are, and establish quarterly KPIs needed to execute a successful campaign.
Our experienced digital marketers perform extensive industry research and consistent data driven adjustments required to execute a successful insurance digital marketing campaign for your insurance agency. Contact 321 Web Marketing to learn more information or to schedule a consultation. In addition, feel free to review successful insurance marketing campaigns by 321 Web Marketing.
Additional Reading: