Modern businesses rely heavily on technology to increase brand awareness. However, establishing an online presence in this day and age can be challenging due to the rapid influx of new businesses on the web. Today there are more than 7,490 cannabis dispensaries in the United States, according to a 2020 Cannabis Dispensaries Growth Study published by Kisi. To maintain an advantage in this highly competitive industry, cannabis businesses must learn how to leverage dispensary marketing and boost their online visibility.
Get Into Local & Niche Directories
Online directory listings are a powerful way to help consumers find a business online. It is also an effective way to build a website's domain authority as directory listings increase the number of backlinks to a website, helping the site gain a higher position in the search engine results.
In simple terms, a directory is an online listing of businesses. These listings generally include information like the business's name, address, services, contact information, associations and products offered. These businesses are typically divided into categories, such as by business location and niche.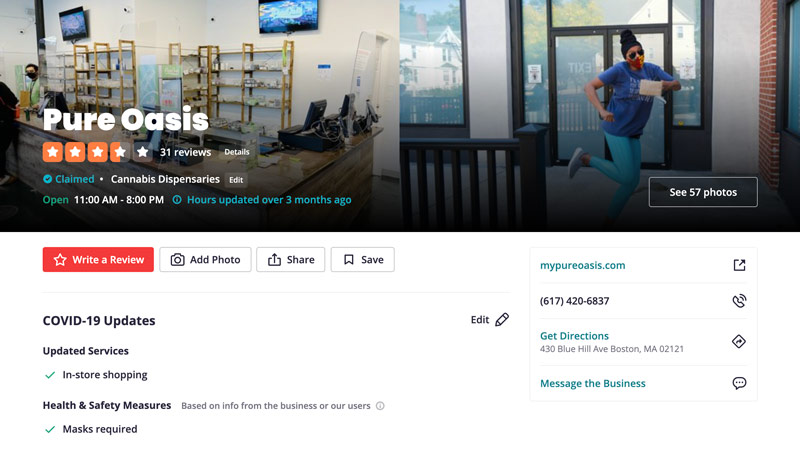 Figure 1.1
When adding a cannabis dispensary into local and niche directories, ensure that all of the information is up to date to prevent confusing potential customers and losing sales. Also, choose to only add to trusted authority sites. While top directories can help boost a business's online visibility, poorly managed directories can also damage a business's online ranking.
Getting added to local and niche directories is fairly easy and usually free. Some of the top online directories for businesses include Google, Bing, Facebook, Yelp, Angie's List, LinkedIn, Better Business Bureau, Merchant Circle, YP.com, Whitepages, CitySearch, Local.com, Thumbtack, Manta and Aabaco Small Business from Yahoo!
Figure 1.1 shows the Yelp directory listing for 321 Web Marketing's client, Pure Oasis. At the start of each of our cannabis marketing campaigns, we perform a directory audit and ensure each listing is updated with the correct information. 321 Web Marketing will also enter new clients into a list of over eighty unique local and niche directories.
Create & Optimize A Google My Business Account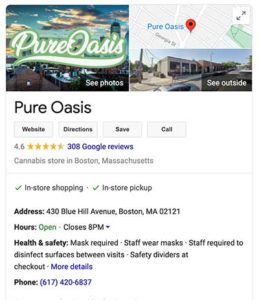 Figure 2.1
When someone searches for a product or service they need, the top results are often local businesses. Local results are generally based on distance, relevance and prominence. Google's unique algorithm will usually display businesses that are closest to the searcher, but may also display a business that is further away if it is more likely to have what the searcher is looking for.
Google My Business (GMB) is a free tool offered by Google that helps businesses better manage their online presence on the search engine. The first step in getting a GMB listing is to conduct a simple search to see if the business is already listed. If the business has been around for a while, it may already have a listing and the owner simply needs to claim it. Once claimed, the owner can manage the information. Figure 2.1 shows the current Google My Business configuration for Pure Oasis.
If the business is not yet listed, the owner will need to create a new listing. To prove ownership, the listing will need to be verified which can take upwards of a week or more. Once verified, the account can be optimized by inputting the main business category, contact information, website URL, business hours, photos of products and services, and other information and media. These details can be updated at any time.
Constant Content Generation & Dissemination
Content marketing is the foundation of any successful dispensary marketing campaign. Great brands understand the importance of creating and publishing valuable, relevant information that showcases their expertise in their industry. Releasing content on a consistent basis is also vital to keep consumers returning to the website to learn more.
Online content plays a direct role in improving search engine optimization (SEO), which in turn influences a business's online visibility. Content creation is one of the most effective SEO techniques as the more content that a business creates, the more pages the search engine has to index and show to users in the search engine.
Businesses have access to many formats for publishing their content online. It is wise to use a variety of formats to reach a wider audience. Social media has become one of the most popular platforms for sharing business content. Twitter, Facebook, YouTube, Instagram and Snapchat are all great mediums for creating and sharing new content.
There are other ways to gain online visibility, such as showing up directly in the mailboxes of consumers. Email marketing is an easy and effective way to reach an audience to promote content. Paid promotion techniques, such as pay-per-click (PPC) can also get a business's content in front of a new audience through paid advertisements.
Create A Monthly Newsletter For Current & Prospective Clients
Monthly newsletters can be highly effective in increasing online visibility for cannabis dispensaries. These emails provide subscribers with interesting content and announcements that help build brand awareness and introduce the target audience to new products.
With modern email campaign software, it is simple to deliver newsletters to subscribers on a consistent schedule. Monthly newsletters also provide readers with something to look forward to each month while staying connected with the brand.
Not only are newsletters excellent tools for educating and informing an audience, they can also drive traffic to a business's website to acquire more conversions. Businesses can use a wide range of techniques to engage subscribers through emails, such as with segmentation and strong calls-to-action (CTAs).
When sending monthly newsletters, it is important to pay attention to the audience's clicks and buying preferences. This data can later be used to create content that meets the reader's unique interests. Focus on sending emails that are highly personalized.
Newsletters can also be used to grow an online community with the use of social media. When creating monthly newsletters, include social media links and sharing buttons for multiple platforms. Many businesses also find value in promoting social media contests within their newsletters that encourage people to follow the business on social media or to check out more content.
Perform Outreach To Build Relationships & Backlinks
Outreach is a proactive approach to building backlinks that direct back to a website. This strategy is achieved by contacting other website owners to get links. Although this process can involve a range of communication techniques, it most commonly occurs with email or social media. Investing time in performing outreach can help improve a business's traffic to their website and boost overall online visibility.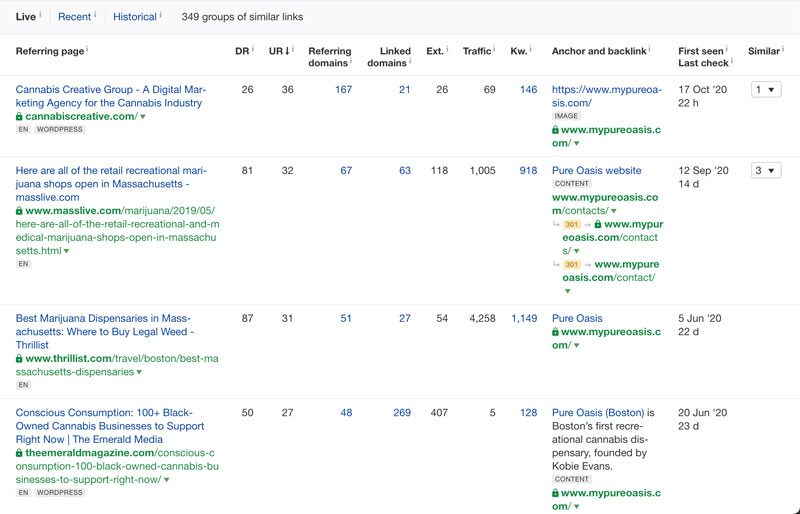 Figure 5.1
The process begins by identifying websites that are relevant to the brand. This helps to ensure that the links are as relevant as possible to the business without being direct competitors. A Google search can help businesses identify potential websites that they might be able to acquire beneficial links from and increase website authority.
Outreach links are an affordable way to improve rankings and increase the chances of connecting with a new audience. SEO outreach links are also considered some of the best links that a business can have to its website. While organic links are simpler to do, they rely more heavily on having excellent content in order to be effective. Outreach links, on the other hand, can develop an online presence using backlinks.
Figure 5.1 displays some of the backlinks acquired for Pure Oasis' website. 321 Web Marketing has built an extensive library of outreach clients for their campaign and has cultivated several high-authority links. Pure Oasis now enjoys over 1,070 backlinks from over 180 unique websites as of March 12, 2021.
Create Guides & Resources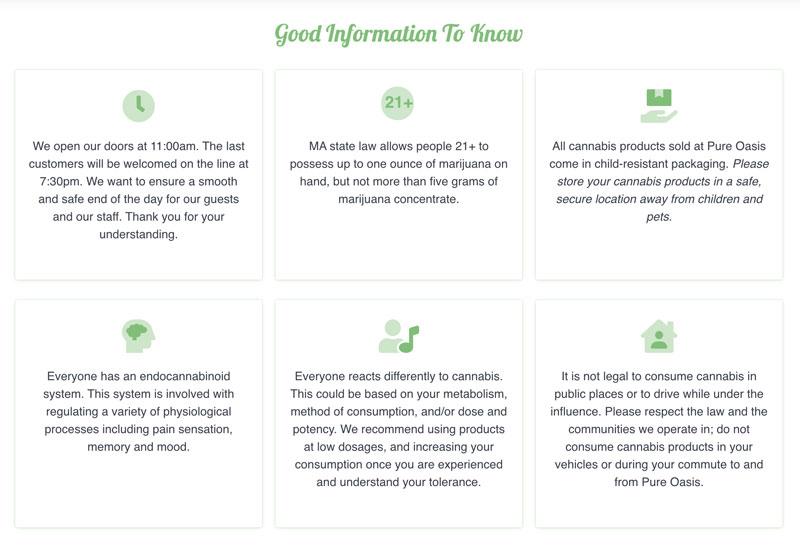 Figure 6.1
There are many types of content outside of website blogs and articles. The creation of guides and other resources can be highly advantageous in increasing online visibility for cannabis dispensaries. Useful resources like eBooks can help a business in many ways.
First, it can help increase brand awareness and reputation by boosting the business's credibility. Creating a guide or eBook shows the audience that the business has expertise in the cannabis industry and is likely to offer products that are of high quality.
Guides, eBooks, frequently asked questions and other resources can also act as an additional revenue stream. Although most businesses do not earn a lot of money from book sales, it can provide the business with a little extra money. Offering the eBook or guide for free with a purchase can also be an excellent way to increase sales.
Online resources can be an effective part of a marketing funnel. Consider giving out copies of an eBook or guide in exchange for people's email addresses, which can then be used in an email marketing campaign. An eBook can organically lead new people to a business.
Figure 6.1 shows business information that is featured on Pure Oasis' frequently asked questions page. This page contains plenty of information about their brand and operating hours, as well as general information regarding cannabis and Massachusetts state law.
Share Content On Social Media Platforms
Social media is a powerful tool in increasing visibility for cannabis dispensaries. In 2021, 91.9 percent of U.S. business marketers are expected to use social media for marketing purposes, according to the Statista Research Department.
Gaining a following on social media takes time and hard work. There are many techniques that marketers use to improve their visibility on social media sites, such as the use of high-resolution and compelling images, the creation of engaging content, and the strategic use of captions and hashtags.
To get attention on social media, it is necessary to upload share-worthy visual content. This includes fascinating images with captions that add value and provoke emotion or interest. It can sometimes be useful to partner with influencers that will promote the latest products or speak about upcoming events.
Content about the business posted elsewhere online, such as on a website or blog, can also be shared on social media. Include a link to the content that directs back to the website to encourage consumers to click and take action. The better the content, the more likely people will be to share it on social media.
Speak with An Experienced Dispensary Marketing Agency
Increasing online visibility can be challenging for both new and established cannabis dispensaries. It is often necessary to utilize a wide range of techniques and strategies to gain the full benefits of digital marketing. Working with an experienced cannabis dispensary marketing agency can also help increase online visibility. Reach out to the digital marketing experts at 321 Web Marketing today to learn more about online marketing or to schedule a meeting.
Related Articles: