Email marketing has been around for a long time, but it still remains a viable option for insurance agents who want to boost their sales. This popular marketing tool has been deemed an effective technique for lead generation and can help you maintain a solid relationship with past customers and new prospects. However, email marketing for insurance agents is not as easy as sending out the occasional email. It is important to create emails that draw in your target audience while enhancing brand visibility. Here is a look at how insurance agents can grow their book of business with email marketing.
An In-Depth Dive Into Email Marketing For Insurance Agents
When done right, email marketing can deliver a wide range of benefits. Unlike many other types of marketing techniques, email marketing allows businesses to keep in touch with consumers on a regular basis. Whether used to send a discount code for services or to deliver a "Happy Birthday" message, email is one of the simplest and most effective ways to preserve the business-client relationship. Email marketing has been found to be helpful in building credibility, creating personalized content and building better brand recognition. You can even use email to gain feedback from your customers, which can then be used to improve your business.
Here is a more in-depth look at the benefits that email marketing can provide to insurance agents.
Providing Informative & Engaging Content
Many businesses make the mistake of creating a generic email that contains the same basic information that has repeated over and over. In today's age, it is important to be more creative in your email creation. Start by personalizing the emails that you send out. At the very least, include the recipient's name at the start of the message. You should also have unique emails for different situations, such as when a person visits your website but does not follow through by contacting you for services, or an email sent with a discount code that draws in a previous client.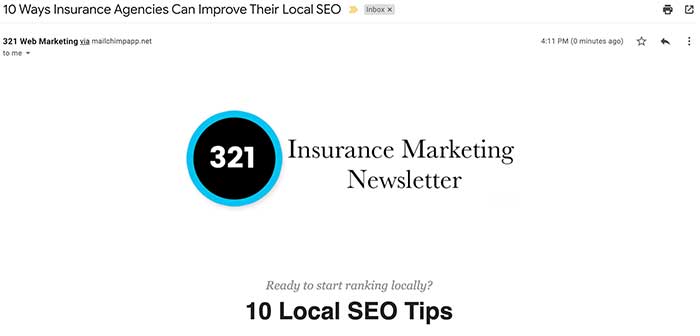 Figure 1.1 shows a preview of a 321 Web Marketing Insurance Marketing Newsletter providing tips for insurance agencies on how to improve their local SEO. New to local SEO? Read more about the benefits of local SEO for insurance agencies.
Raising Awareness & Online Visibility
Email marketing is an excellent way to raise awareness about your business and increase your online visibility. It does not matter if you are a brand-new insurance agent or have been in the industry for decades, you can leverage email marketing and tell your story to your clients via personalized messages. In addition to sending out emails about new products or promotions you may be having, consider establishing a monthly or biweekly newsletter. This can help your clients keep up with what is going on with your business and can show consumers your personal side. Do not be afraid to talk about new hires, highlight your accomplishments or input other information that your customers may find interesting.

Figure 2.1 shows data for users and new users to our insurance clients website which came from an email marketing campaign. Increasing new users to your website will increase overall awareness and visibility of your brand.
Targeting Specific Audiences
Not everyone will respond the same way to your emails. Therefore, it is important to know your audience and what they are looking for when they show interest in your services. With advances in technology, it has never been easier to find out information about your customers and prospects. From a person's age, gender and occupation to their home ownership status and estimated income, it is fairly easy to find out most of the information you need about a person. Once you have this information, build a database that you can use to create personalized emails designed to attract unique audiences.

By utilizing the data from Google Analytics, Figure 3.1 shows a breakdown of website users by age and gender for one of our insurance clients. This data can be used to target specific ages and genders during an insurance email marketing campaign.
Keeping In Touch & Sending Reminders
Just because a person has shown interest in your insurance products or services does not necessarily mean that they will follow through with a sale. Some people need more persuading than others before they will go through with a purchase. Email marketing can be a highly effective and efficient way to keep in touch with prospects and customers. Emails can also be used to send reminders to consumers who may have taken the initial steps to acquire your services but did not complete their purchase. Emails can even be sent to remind your audience about upcoming events, new promotions and other important information. To make this process less time-consuming, messages can be completely automated.
Speak To The Experienced Insurance Marketing Agency For Email Marketing For Insurance Agents
While there are countless ways to generate sales leads for your insurance business, email marketing remains one of the most effective. It is also highly cost-effective compared to other types of marketing and advertising. However, if you are new to email marketing, it can often be challenging to navigate this technique on your own.
For this reason, many insurance agents rely on the expertise and experience of an established web marketing team. 321 Web Marketing offers email marketing automation services that give insurance agents the help they need to beat out the competition. For more information about email marketing for insurance agents or to inquire about email marketing services, contact 321 Web Marketing today.
Related Articles: