Search engine optimization (SEO) helps small businesses like law firms create user-friendly websites that rank higher in the search engines. SEO can also help build brand awareness, bring in more qualified leads and increase conversion rates. While search engine optimization can be an excellent way to bring in new clients using law firm marketing techniques, there are certain techniques attorneys should avoid when performing law firm SEO.
Law Firm SEO Do's
There are many SEO techniques law firms can perform, however, not all techniques result in an increase in leads and rankings in search results. Here are three of the top techniques to perform to achieve success with law firm SEO.
Consistency Across All Online Citations
Citations are a critical component in local SEO and can be easily managed when set up correctly. However, when citations are performed incorrectly, businesses can experience a loss of customers and negative feedback from consumers. Online citations refer to references that feature a business's name, address and phone number (NAP).
While citations often appear in online business directories, they can also be found elsewhere on the web. Some of the most common citation platforms include Google My Business (GMB), Facebook, Bing Maps and Yelp. It is important to be consistent when creating citations to ensure that customers know where they can contact the business directly. When successful, online citations can improve local rankings and earn referral traffic.



Figures 1.1, 1.2 & 1.3 show citation listings for 321 Web Marketing on Google My Business, Bing Places & Facebook, respectively.
Having A Mobile Friendly Website
Mobile SEO involves optimizing a website for users on smartphones and tablets. It also includes making the website accessible to search engine spiders. Having a mobile friendly website is a necessity in this day and age. According to a recent report from Hitwise, an estimated 58 percent of all search queries are made on mobile devices. A mobile friendly website should load fast, allow mobile users to navigate the site with ease, have readable content that does not require the reader to zoom in, and offers users real value. Google now offers tools that you can use to check if a site is mobile friendly.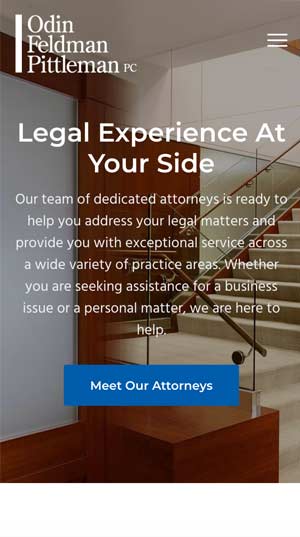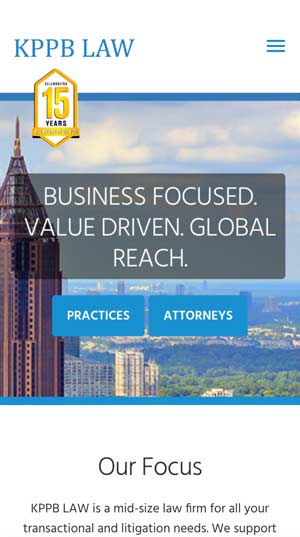 Figure 2.1 shows the mobile friendly version of OFP Law's website & Figure 2.2 shows the mobile friendly version of KPPB LAW's website.
Keyword Centric Content Generation
Search engine optimization is all about using relevant keywords in a strategic manner to organically draw in visitors to a website. When selecting keywords and key phrases, consider aspects like the target audience, the keywords' monthly search volume, the keywords' implicated search intent and the keywords' competition.
For example, if you enter the general keyword 'divorce attorney' in a keyword research tool, you will see the average monthly number of searches and the level of competition, whether low, medium or high. Ideally, you want to use keywords that have a high number of searches with relatively low competition.

Figure 3.1 shows relevant keywords related to 'divorce attorney' which can be used to make valuable law firm content.
Law Firm SEO Don'ts
The following law firm SEO techniques have been proven to not only yield poor results, but can yield detrimental results to law firms and their SEO.
Having Duplicate Content On The Website
Duplicate content is any content that appears on the internet in more than one place. While duplicate content has become commonplace with the growth of the web, it is often frowned upon by search engines. When there is duplicate content on the web, search engines do not know which version to include and exclude from their rankings. It can also be difficult for search engines to decide which version is more relevant to the search query. As search engines will rarely show multiple versions of the same content, avoid posting duplicate content and instead create original, informative content.
Using Black Hat SEO Techniques
Black hat SEO refers to the unethical practice that goes against standard search engine guidelines used to raise a site in the search results. Using black hat SEO often results in substandard results for the searcher and a penalty for the website owner. There are many different types of black hat SEO techniques, such as cloaking, keyword stuffing and the use of private link networks. Black hat techniques are never recommended as they generally use manipulative or shady tactics to get results. Continuous use of black hat SEO techniques could result in the website getting blocked by the search engines.
Improper Use Of Header Tags
Header tags are used on webpages to separate headings and subheadings. The main heading of a page is generally H1 while subheadings range from H2 to H6 and are used to break up information in a page of content. While many websites use headers, not all use them properly. When adding headers to a web page, avoid using multiple H1 tags on the same page.
As the main heading of the web page, there should only be one H1 at the top. In addition, you will want to use subheadings based on what they are designed to be used for, such as using H3s for linking groups to other relevant sources and H4s for targeted, niche subsections relevant to the topic.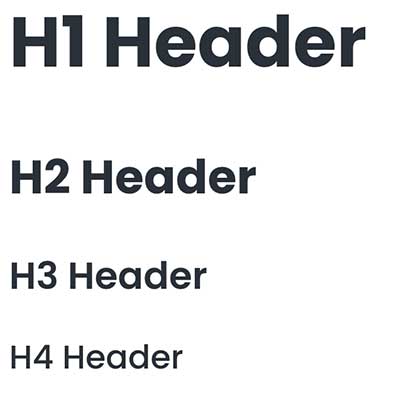 Figure 4.1 shows how different header tags effect the sizing, in addition to the benefits it provides towards SEO when implemented properly.
Speak To An Experienced Law Firm Marketing Agency
Growing a law firm website can be challenging, especially if you are unfamiliar with search engine optimization and how to properly leverage its advantages. To learn more about implementing law firm SEO or for assistance optimizing a business website, reach out to the law firm marketing experts at 321 Web Marketing by calling 703.810.7557 or by scheduling a consultation online.
Schedule A Law Firm Marketing Consultation


Related Articles: