The U.S. legal market is growing at a rapid rate. According to the American Bar Association, there are more than 1.1 million licensed attorneys in the United States and more entering the industry every day. To keep ahead of the competition, law firms must take certain steps to effectively market their practice and increase brand awareness. Solid law firm marketing strategies can help law firms grow and meet important objectives.
In 2020, law firm marketing entails creating an optimized website, leveraging social media, engaging in email marketing and developing a strong online presence. There are multiple strategies that can help law firms reach their marketing goals.
Top Law Firm Marketing Strategies To Consider
When in need of legal representation, most people go straight to the internet to perform a search for local attorneys. It is important to have the name of your law firm at the top of the search engine results page (SERP). Law firm marketing strategies can be used to create a sales pipeline that leads searchers to the firm's website or social media page.
Some of the top law firm marketing strategies to try include:
Local Search Engine Optimization
According to Think with Google, four in five consumers use search engines to find local information. This means that until a law firm is optimized for local search, they could be missing out on a significant number of potential clients. Local SEO helps law firms promote their services and products to local prospects and customers.
There are many ways that law firms can enhance their local presence, such as by adding location pages to their website, creating local content, improving their internal linking structure, creating a Google My Business page and ensuring that all names, addresses and phone numbers for the law firm are consistent online.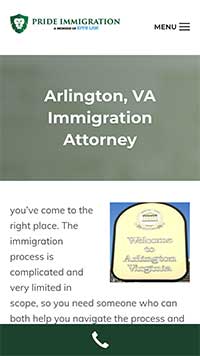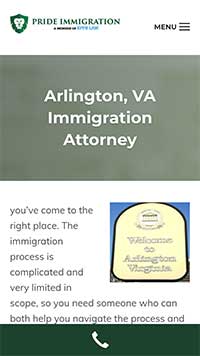 Figures 1.1, 1.2 & 1.3 show geo pages for Pride Immigration, which boost local SEO and is a great strategy to implement during a law firm marketing campaign.
Ad Remarketing
Ad remarketing can be an effective way for law firms to generate more leads and profits. This form of online advertising enables websites to show targeted ads to users that have already visited the site. A past visitor may see an ad for the law firm when watching a YouTube video, browsing the web or reading the news.
When an ad for the law firm is seen, it reminds the user to return to the website and complete an action. Ad remarketing can increase conversion rates and ROI as the target audience is already familiar with the brand and therefore more likely to inquire about legal services.
Consistent Social Media Engagement
Social media platforms like Facebook, Instagram and Twitter have become incredible marketing sources. However, it is not enough to simply create a social media account. Law firms must consistently engage with their audience to develop a loyal following and make the law firm known as a trusted firm.
There are many different ways that law firms can engage with users on social media, such as by posting daily to keep the brand at the top of people's newsfeeds. It is also important to use images to boost interaction rates and offer value to readers. Engagement goes both ways so law firms should also take the time to listen and respond to consumers.



Figures 3.1, 3.2 & 3.3 show consistent social media posting and engagement from Parnall & Adams Law.
Monthly Newsletters Through Email Marketing
A well-written law firm marketing newsletter can be an excellent way to showcase a brand and create awareness about a law firm. According to a McKinsey & Co study, email marketing is 40 times more effective at reaching a targeted consumer base than Facebook or Twitter.
Monthly newsletters can be used to inform an audience about the latest news, updates or tips about a product or service. A newsletter also offers law firms a way to send tailored messages to new and existing clients. Email newsletters can even drive traffic and sales.
Optimizing & Posting On Google My Business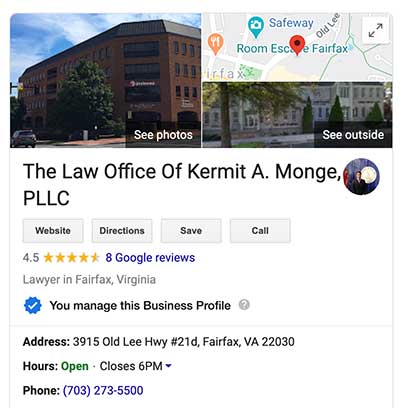 Google My Business is a free tool offered by Google that allows business owners to manage how their information appears in search. Using Google My Business, a law firm can pinpoint their location on Google Maps and manage user reviews. Any law firm that has a brick and mortar establishment needs a Google My Business listing.
Optimizing a Google My Business listing involves a series of important steps, starting with choosing a relevant category for the listing, such as "Law Firm." Upload high-resolution images to accompany the profile and include a local phone number. The information on the Google My Business account should match information for the law firm elsewhere on the web to avoid confusion.

Figure 5.1 shows an optimized Google My Business listing for The Law Offices Of Kermit A. Monge.
Speak To An Experienced Law Firm Marketing Firm
A successful law firm marketing strategy can help a law firm attract more clients and achieve greater brand awareness both locally and across the web. As law firm marketing can be complex, it is important to work alongside an experienced marketing team that is knowledgeable in law firm marketing strategies. To learn more about the law firm strategies mentioned above or to speak with a qualified law firm marketing expert, contact 321 Web Marketing.
Schedule A Law Firm Marketing Consultation


Related Articles: