Did you know? The first thing many consumers see (or look for) when they discover your brand is your website. Modern consumers are smart people, and they often look at an organization's website to tell them 'all they need to know' about a brand before they engage with it. In order to stand out, organizations must have websites that reflect their brand's image, services, and professionalism, as well as a custom website that uses contemporary designs and technologies. 321 Web Marketing, a Northern Virginia web design firm, has the knowledge and expertise to create responsive, well-designed websites that convert leads into sales for your business, and allow your business to grow.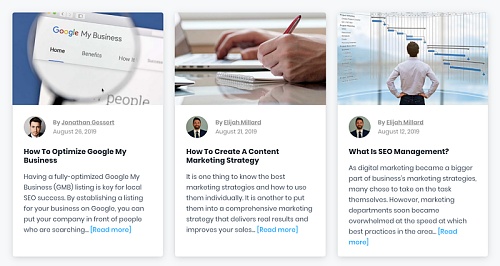 Arlington, VA Web Design Benefits
It is especially important for businesses in Arlington to have strong marketing efforts due to the busy and competitive nature of the area. With a professional-grade web design, your brand can outperform both the local and national competition. Read on for more information about the benefits your business can receive by investing in Arlington, VA web design.
Demonstrate Your Professionalism and Values
Many potential clients form opinions about your organization by simply viewing your website. A web design that features advanced page layouts, menus, and sidebars will position your company as an industry leader as it reflects the quality and craftsmanship of your products or services. Thus, your brand is more likely to convey that it values the time of consumers with a fast-loading, mobile-friendly, and easy-to-navigate website. The Arlington, VA web design team at 321 Web Marketing will develop a site that will represent your company in a professional manner and deliver accurate and expedient results for your customers.
Increase Online Visibility and Brand Awareness

Websites that are developed using the latest search engine optimization (SEO) techniques helps brands rank higher in search engines such as Google and Bing. For this reason, 321 Web Marketing's web development staff works in tandem with our digital marketing department to create SEO-optimized sites for our clients. This includes service pages and blogs that allow your site to be discovered, paired with a user-focused navigation that provides users with this information quickly and reliably. This helps consumers readily find a company's brand-centric content online, and engage with their brand regularly.
Drive Real Business Conversions
Our websites are very conversion-focused. What does that mean? Using calls to action (CTAs) and advanced layouts, 321 Web Marketing creates designs that direct site users toward the next step in the sales process. CTAs or 'calls to action,' include buttons that allow users to request a consultation, as well as landing pages that are formulated to convert qualified leads. Our Arlington, VA web design staff is dedicated to capturing leads and increasing client lists for organizations in the area.
Contact 321 Web Marketing For More Information
Here at 321 Web Marketing, we understand that attempting to develop a website for your company – on top of running a business – can be extremely difficult. Fortunately, our experts can serve as your outsourced web design team to develop a custom website that will reflect your brand and its message. If you company is ready to enjoy an increase in website traffic and organic leads, as well as accrue the aforementioned benefits, contact 321 Web Marketing online or call us at (703) 810-7557 to request an Arlington, VA web design consultation!
Start Your Arlington Web Design Campaign
---
Helpful Web Design Blogs