Businesses need a fast, reliable and efficient professional website in order to thrive in the digital age. Modern organizations also need websites that reflect their brand's identify, clearly showcase their quality of products or services, and highlight their dedication to customer satisfaction. 321 Web Marketing, a digital marketing and web development firm, offers comprehensive web design services to help clients in all industries create the website they need to succeed in the digital age.
Our experienced Centreville, VA web design experts will create a custom website design for your organization using advanced technologies and engaging designs, as well as SEO techniques to drive consistent traffic to your site and convert potential clients into lifetime customers.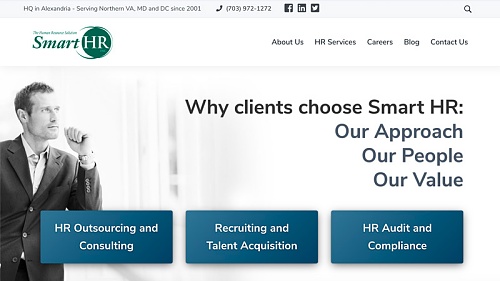 Benefits of Centreville, VA Web Design Services
Due to the competitive nature of business in Centreville, it is crucial for businesses to gain visibility online. A professional web design equipped with on and off-page SEO techniques will position your business near the top of search engine results pages (or SERPs). That way, local and nationwide web users can reliably discover your site and inquire about your services. Here are just a few other benefits of professional web design services:
Establish a Greater Presence Online

At 321 Web Marketing, we develop websites using SEO to help your brand rank higher in Centreville-based SERPs for search engines such as Google and Bing. Our web design staff works alongside our digital marketers to create a site for your business that contains SEO-optimized keywords, meta tags, and a highly organized URL structure. In addition, we create products and service pages that contain custom layouts to provide valuable information in a visually pleasing format. Furthermore, our SEO department will write, optimize, and publish blog content for your organization so that your site can dominate in the search results for queries that match your products or services.
Receive a Fully Customized Website
Your website serves as the 'first impression' to your local-customer base in Centreville, Virginia. That is why it is so important to choose a web design that reflects the same professionalism and attention to detail that your organization demonstrates at your retail location. A design that is easy to navigate, optimized for mobile users, and is quick to load will allow your company to develop trust with new and existing customers. Our team will create a web design for your Centreville organization that provides users with valuable information as fast as possible, whether they are browsing on their laptop or their work phone. 321 Web Marketing will also develop your site to include features such as advanced page layouts, custom themes, and well-structured menus that are often not available through free website builders.
Capture a Greater Amount of Organic Leads

Our customized 'schedule a free consultation' form allows us to capture more leads
Once you have gained traffic to your website, it is important to not only retain users, but also convert as many interested leads into paying customers. 321 Web Marketing designs websites that are equipped with calls to action (CTAs) designed to 'funnel' users toward a purchase. CTAs include buttons that link to a contact page, clickable phone numbers, and landing pages that encourage users to purchase or inquire about your products or services. Our Centreville, VA web design team is committed to driving traffic to websites and increasing business leads for all kinds of Centreville, VA-based companies.
Schedule a Centreville, VA Web Design Consultation
If your organization is ready to enhance its online presence, website responsiveness, and lead conversion rate, reach out to 321 Web Marketing today. Our Centreville, VA web design team has the knowledge and experience required to produce enterprise-grade websites for companies in the area. Additionally, we can serve as your outsourced marketing team, or collaborate with your current marketing staff, to implement SEO tactics into your new website build and consequently, increasing website traffic and conversions. For more information about Centreville, VA web design services, or to schedule a consultation, give us a call at (703) 810-7557 or contact us through our online form today.
Request a Free Consultation Today
---
Our Web Design Links