In the digital age, it is absolutely critical for your business to have a fast, professional, and easy-to-navigate website. This is because the majority of individuals that encounter your brand online will determine within the first few seconds whether they want to purchase your products/services or not–just by how your site looks and feels. At 321 Web Marketing, we use advanced technologies and professional designs to create enterprise-grade websites for businesses in Alexandria, VA. Through our extensive expertise, we can develop a responsive and navigable website that will increase your chances of converting interested leads into lifetime business advocates.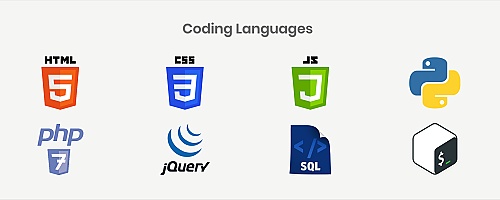 Advantages of a Professional Alexandria Web Design
A strong web design enables organizations to better communicate their products or services, brand message, and business information, among other details, to potential clients. By receiving a brand new website design, your organization can establish itself as an instantly-recognizable brand, as well as drive more qualified leads and sales. Here are some additional benefits of Alexandria, VA web design services.
Allow More Consumers to Discover Your Brand
321 Web Marketing is a firm believer in not only developing visually appealing websites for our clients, but also optimizing those sites to facilitate growth in search engine results page (SERP) rankings. Our web developers will implement search engine optimization (SEO) into the build of your website, which can increase the likelihood that your website ranks for specific keywords in the SERPs. This can be a highly effective way to market your business and its services without spending on traditional advertising or search engine marketing.
Increase Your Brand's Legitimacy and Trust
Did you know? Your business's website serves as the primary 'first impression' many people will have with your brand image. If your website has an unpleasant design, does not load fast enough, or cannot be navigated easily, potential customers will simply click away in favor of a seemingly more reliable competitor. 321 Web Marketing will develop a website for your business that is easy to use, load, and navigate. We will also work to ensure your website mirrors the professionalism of your services, and matches your brand's unique design aesthetic. Our Alexandria, VA web design experts are committed to producing an accurate representation of your organization online.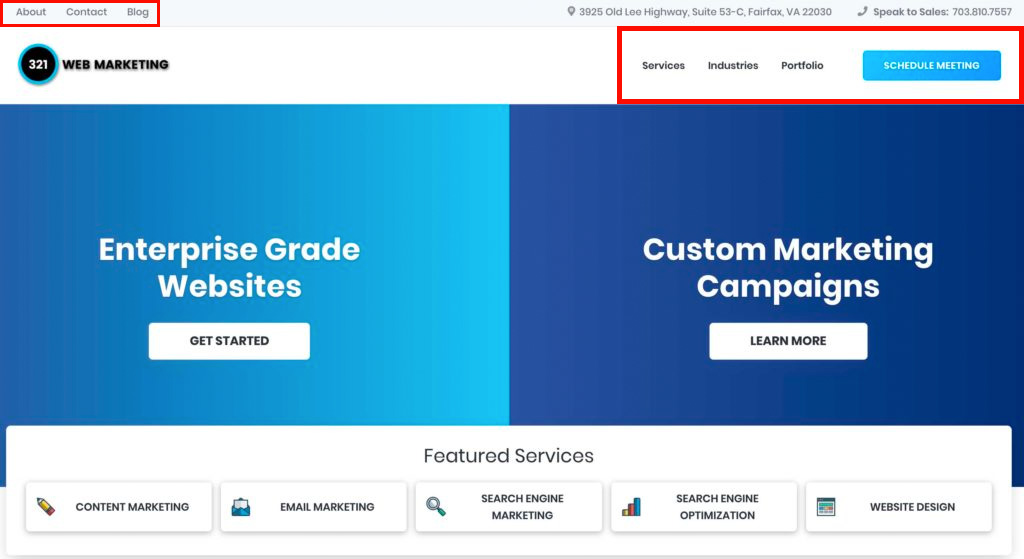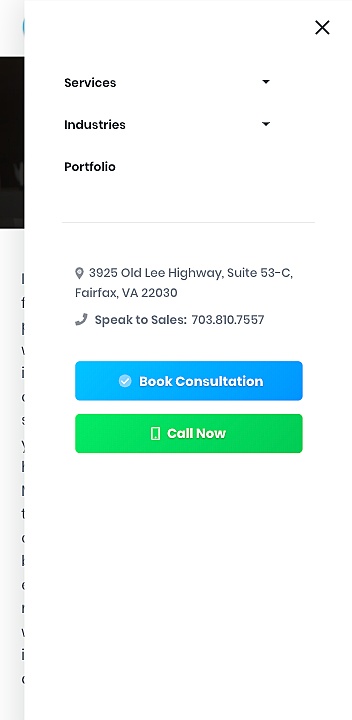 Our desktop menus are easy to navigate and provide users with information as fast as possible. For the mobile versions of our sites, we use the "hamburger menu" layout to provide a more user-friendly experience on mobile.
Convert Business Through Calls to Action
While you may have attracted several individuals to your site, it amounts to nothing if you are not converting potential clients into qualified leads. 321 Web Marketing will design your website with appropriate calls to action (CTAs) to increase the likelihood that your website users take the next steps towards a purchase. These CTAs can be as simple as buttons encouraging individuals to "Sign Up Now" or conversion-focused landing pages that move your users in the direction of a sale. With the help of our Alexandria, VA web design team, your business will receive countless qualified leads from users that discovered your website in the SERPs.
Learn More About Alexandria, VA Web Design
If your organization is ready to invest in a website that will strengthen your brand's message and increase your book of clients, reach out to an Alexandria, VA web design agency. Our team of full stack web developers will design and develop a fully optimized and mobile-friendly website for your business, ensuring that you have a professional presence on the web. For more information about Alexandria, VA web design services, contact 321 Web Marketing online or give us a call at (703) 810-7557 today!
Get Started in Alexandria, VA Today
---
Web Design Resources