Your company's website is the first thing potential customers look at. The website needs to reflect your company's brand as much as possible to better increase audience engagement. If the website is not up to par, it may cause you to lose your customer base or miss out on building relationships with customers that could benefit from your products or services. It also needs to be noticed more in search engines for people to be attracted to your business. 321 Web Marketing's team of highly skilled web developers will assist you in creating and designing a website that accurately reflects your brand and your outstanding services.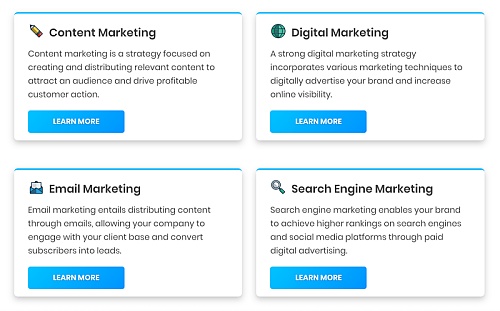 Advantages of Ashburn, VA Web Design Services
Having a professional website for your Ashburn business can be a home to a lot of creativity. This could range from engaging blog posts to well organized headers and footers and custom page layouts as per your request. Once your website is visually pleasing and accurately reflects what your business can do for its clients, you will be on the right track to continue business in the highly competitive digital-market. Our Ashburn, VA web design services are here to provide you with the following:
Increased Engagement and Overall Visibility
A top-notch website ensures is one that reflects your company culture well and is easy to navigate. Moreover, the overall layout needs to be designed so your commitment to customer satisfaction is readily apparent, by making your website easy to use and navigate for your users. You don't want a poorly organized site that leaves your potential customers guessing on where to contact you, let alone what services you provide. Providing users with easily accessible information and making it so it loads as fast as possible is absolutely vital. The point: hiring a professional to create a highly optimal website will do wonders for your customer retention rates!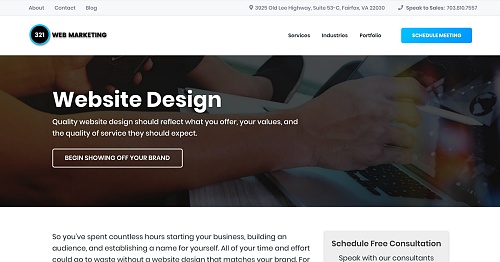 Greater Traffic Through On-Page SEO Techniques
Once your website is created, 321 Web Marketing will get to work on increasing your search ranking through on-page SEO techniques and strategies. Implementing thorough SEO techniques enables your Ashburn business to be better identified in the search engine results whether it is locally or nationally. 321 Web Marketing's digital marketing department will work with you to develop product and service pages with targeted keywords that are central to the services you offer. Paired with a strong URL structure and fluid navigation menu, and website users will have no problem finding, accessing and using your site regularly. We will also implement highly optimized content in your website pages to increase your visibility on all possible search engine pages!
Generate More Qualified Leads Online

321 Web Marketing understands that the main purpose of you establishing a website for your business is to convert your visitors to successful sales. We will work with you to develop clear calls to action (CTAs) to increase your potential conversions. CTAs will be in the form of a clickable button or link that will take the user to landing pages that clearly define what you can do for them, as well as the services you offer. Our experienced web developers will create unique CTAs for you that will increase your conversion rates and substantially expand your business.
Contact 321 Web Marketing to Learn More
Ready to acquire the aforementioned services? If your business is ready to take the step to make a better website and increase its conversion rates, speak to 321 Web Marketing today. Our experienced and highly trained Ashburn, VA web design team will leverage their expertise to develop a custom website using the most advanced web-development strategies. Moreover, we will make sure the website is SEO-friendly to increase your online visibility and ensure that your business gets talked about. To learn more about Ashburn, VA web design and SEO, or to schedule a consultation, give 321 Web Marketing a call at (703) 810-7557, or contact us online!
Ashburn, VA Web Design Consultation
---
Ashburn Web Design Resources