Your organization's website directly reflects your brand. Thus, it is essential to have a well-designed website that reflects your level of expertise and professionalism. If your business's site is poorly designed, it can lead to a negative user experience, loss in potential clients, and, in extreme cases, a suspension of your website from displaying in search engines. Fortunately, 321 Web Marketing's team of Reston, VA web design experts can develop a website for your organization that is responsive, visually pleasing, and easy to navigate.
OFP Law, one of our clients in Reston, VA that received a custom web design.
Advantages of Reston, VA Web Design Services
Professional websites for Reston businesses are created to feature unique designs, including custom page layouts, menu structures, and headers and footers. In order to thrive in this competitive area, especially for companies that operate in the Reston Town Center, your organization must own a website that features a responsive design on both computers and mobile devices. Our Reston, VA web design services carry several benefits, including the following:
Engage Users and Build Trust
With the help of a website that is visually pleasing and easy to use, you can demonstrate the core values of your organization to potential clients – such as your commitment to quality and customer satisfaction. Moreover, having a website that imbues professionalism can translate to your customer's perceptions of your products and services. Likewise, providing users with easily accessible information will increase their satisfaction rate with your brand, potentially encouraging them to buy from, or work with, your business. Finally, a website design that is fast to load and easy to navigate will showcase that you organization cares about your website users and the services you provide.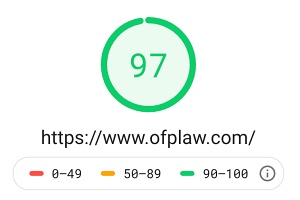 OFP Law enjoys an extremely fast load speed – 97% rating from Google's PageSpeed Insights.
Generate More Qualified Leads Online
Once your company is enjoying a steady flow of traffic to your custom website, our web development team will focus on capturing potential clients and converting them into lifetime customers. By implementing calls to action (CTAs) into your site, we will proactively increase the changes that your website users take specific actions after interacting with your website content. CTAs can be buttons with links to landing pages, clickable phone numbers to call, or product/service applications that convert legitimate business. Regardless of their form or function, our web developers will create persuasive CTAs for your website that will increase your conversion rates and expand your book of clients!
Gain Visibility and Traffic With SEO

321 Web Marketing has over 200 referring domains as of August 2019.

321 Web Marketing has over 8,000 referring pages as of August 2019.
Website design goes beyond functionality and visual appeal; the incorporation of search engine optimization (SEO) into your website ensures that it is readily accessible via search engines, making it easier for your customers to find your site without a direct URL. 321 Web Marketing's SEO services will enable your Reston-based business to be discovered in search engine results pages (SERPs) on a local and national level. Our digital marketing department will also create product/service pages on your website populated with keywords that are specific to your industry. Paired with a strong URL structure and navigation menu, these product/service pages will provide valuable information and will be easily 'findable' via a keyword-relevant web search. The data shown above are a result of strong link-building, which is an SEO strategy involving building backlinks from other websites to increase your likelihood of appearing at the top of SERPs.
Additionally, our web developers will create a custom blog page for your business that will contain a continuous stream of industry-specific, SEO-optimized articles that will widen your online visibility and establish your organization as an industry leader!
Receive a Reston, VA Web Design Consultation
If your organization is ready to receive a site that is engaging, reliable, and conversion-focused, speak to 321 Web Marketing today. Our experienced Reston, VA web design team will develop a custom website using advanced programming languages such as HTML, CSS, Javascript, PHP, and Python. Furthermore, our digital marketers will work alongside our web developers to create an SEO-optimized website that steadily increases your online exposure, website traffic, qualified leads. To learn more about Reston, VA web design, or to schedule a consultation, give 321 Web Marketing a call at (703) 810-7557 or contact us online today!
Upgrade Your Reston Website Today
---
Our Web Design Resources